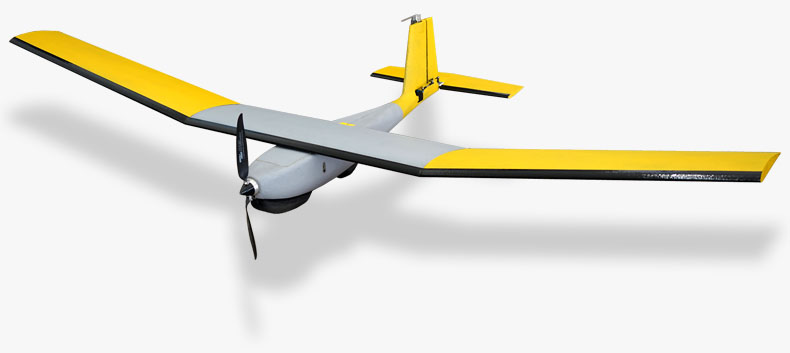 The Lynx M UAS is an affordable imagery collection device with the performance and features that match or out perform considerably more expensive systems. The Lynx design emphasizes simplicity, ruggedness, and performance. Lynx is designed for aerial photomapping and is currently used by customers engaged in surveying, disaster response, simulations, and research
Weighing in at 3.6 kg (8.0 lbs) the aircraft is launched by hand and can belly land or deep-stall. Lynx's unique, robust design make takeoff and landing possible from unimproved and difficult terrain.
The flight time of Lynx M is unmatched. Its three hour endurance enables it to cover more than 8 sq. km (1,977 acres) at 2.3 cm/pixel resolution in a single flight. The standard payload is a 24 MP APS-C Sony camera positioned for maximum ground coverage. The autopilot triggers the camera based on GPS position. After the flight, each photo is accurately tagged with aircraft attitude and location using SwiftTag geo-tag software. The geo-tagged images are then be processed with a variety of photogrammetric and GIS software options.
Lynx is not a mass produced product or a modified RC airplane. It is a handcrafted system and built from top quality materials. Each aircraft is flight tested before completion.
Takeoff and Landing
Lynx is hand-launched and recovered using either a deep-stall or belly land. A deep-stall is an incredibly stable, near-vertical landing method. Lynx is steerable during the deep-stall and the process can even be aborted in flight. To minimize damage from a hard landing or deep-stall, the wings and tail separate from the fuselage upon impact. In extraordinary landings, certain parts are designed to break: these parts can be swapped in the field with simple tools. Spares of breakaway parts are included with each system.
Autopilot and Navigation
Lynx utilizes the Pixhawk autopilot complete with GPS, magnetometer, IMU, airspeed sensor, and telemetry radios. An RC receiver works alongside the autopilot for manual control of the aircraft at any time.
Lynx's flight modes can be completely autonomous – including takeoff and landing – autopilot assisted, or manual. Lynx is controlled with a laptop or tablet running open-source ground control station software (GCS). The GCS allows an operator to command Lynx without any piloting experience. The airplane autonomously navigates itself via onboard sensors and GPS by following flight plans or loiter points. Users can drag and drop points, edit altitudes & coordinates, or simply click on the map and select 'fly here.' For mapping, highlight your area of interest, input camera information, and automatically generate a mapping path.
What's Included
Flight tested Lynx M with autopilot
Camera payload
Telemetry radios
Handheld transmitter
Flight battery
250 watt battery charger & power supply
Tool kit
Spares kit
Checklist & manual
Transport cases
Users will need a windows computer or tablet to run the autopilot software and image processing software.