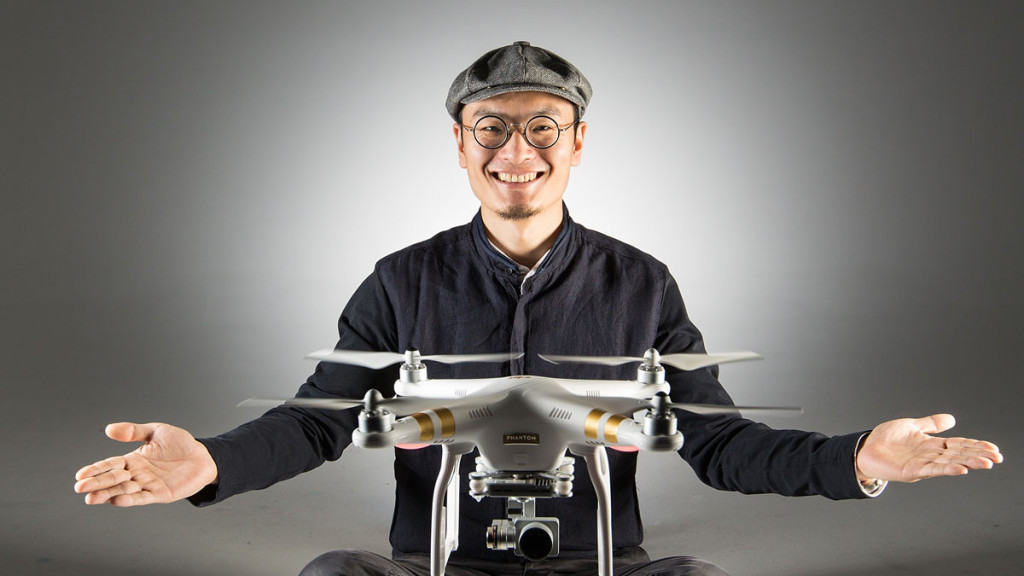 At age 34, Frank Wang Tao is leading the global consumer drone industry with Dajiang Innovation (DJI), a Shenzhen-based manufacturer that he founded out of his dorm room nine years ago. On track to do about $1 billion in revenue in 2015, DJI pioneered the popular market for flying robots largely with its signature Phantom, a white-shelled, pre-assembled drone that can be flown almost right out of the box.
But unlike other Chinese technology giants such as Alibaba and Xiaomi, which grew big mainly by tapping into the enormous consumer market in their home country, DJI derives about 70% of its sales from outside of Asia. It is the first Chinese company to lead a global tech revolution.
In three sit-down interviews with FORBES, Wang shared stories of DJI's early days, his drive as a "perfectionist" and challenges that the company faces ahead. His focus has allowed him to accomplish a childhood dream of creating a flying robot, and he now heads up the largest consumer drone maker in the world. (To read more about Wang's story see this month's feature on DJI here.)
Below are selections from Wang's interviews with FORBES, edited for clarity.
Forbes: When did you first become interested in flying robots?
Frank Wang: There was a comic book in the 1980s called "Dong Naojin Yeye" (Grandpa Think-Hard) which featured a red helicopter. I remember it so clearly. I imagined that I'd make a plane like that, that could follow me when I'm hiking or on the train, and use a camera to send the images to me. Actually at the time I didn't even know the concept of a camera. I just wanted to fly so badly. Even though I couldn't turn myself into a plane, I was happy to just make a small plane and watch it fly.
F: How did the company start?
FW: I completed [a helicopter flight control college project] in 2005. I founded the company in 2006. At the time I made a video of the helicopter and the people who watched it thought it wasn't bad. Someone then approached me to buy it. I thought it was a good deal because I sold it for RMB 50,000 (about $6,000) while it cost RMB 15,000 (about $2,000) to make.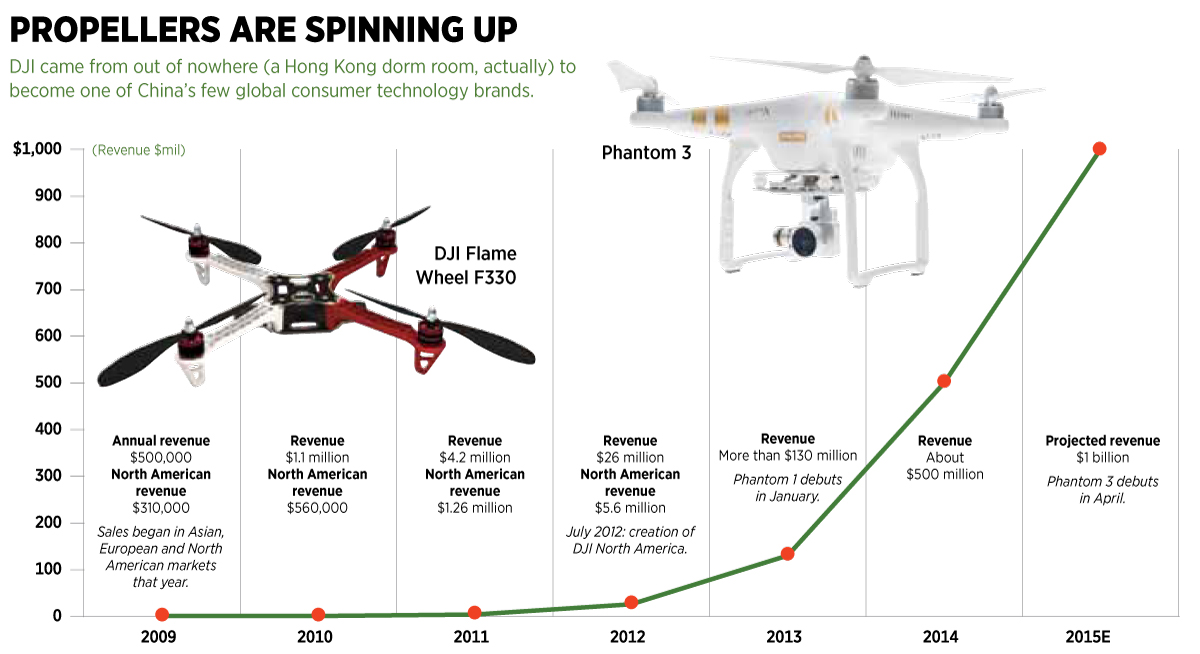 F: What were the challenges you faced in the early days?
FW: Almost all of the first group of employees left after two years. They may have felt the future was a question mark… I was a perfectionist, and was abrasive when it came to interacting with other people.
To give you one example: I believed that whoever contributed more should be given more shares. At the time we had three to four employees and I wanted to give each of them shares, but I thought the share amounts shouldn't be equal. Whoever contributed more should be given more. It shouldn't be egalitarian. But at the end I pissed everyone off. I pissed off the person who was given fewer shares. He felt that it was unfair so he left. But I also pissed off the person who was given more, [because] he asked if he could gift his shares to the other person. I said, "No, you have to take more shares." We had some arguments and my tone was insensitive and I said something like, "At this company I am in charge." When he left the company, he said this incident made him feel hurt.
F: You began with making flight control systems for helicopters but later moved onto making quadcopters. What triggered that transition?
FW: A New Zealand distributor told us that she sold 200 gimbals a month, and 95% of the customers installed the gimbals on multirotors. Initially we thought light of multirotors because they couldn't carry much weight or fly for long. But when the dealer told us this information, we thought about seriously making a [flight controller for quadctopers.] In fact most of the stuff was the same and we could use our software on multirotors with some small changes… The hardware hardly needed any changes and so we made our first flight control for a multirotor in just a few months, selling for RMB 6000 to RMB 7000 (about $700 to $800). It was successful right away.
The main players in the multirotor market back then was an open source company from Germany called MikroKopter. It was mostly do-it-yourself, and you had to find your own components and download your own code, so the user experience wasn't great. Neither was the product's reliability. We were the first one to provide a commercial-use, off-the-shelf [multirotor] flight control.
The multirotor market was rather primitive back then. We sold a few hundred units a month, and I believe we had 70% of the market at the time just like we do now.
Read more http://www.forbes.com/sites/forbesasia/2015/05/07/drone-overlord-frank-wang-on-djis-milestones-miscarried-gopro-partnership-corporate-espionage/