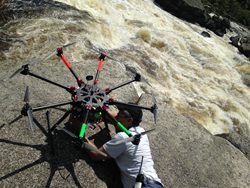 Flying Cross Aerial Productions announced today that the Company has received an FAA exemption to certain Federal Aviation Administration Regulations, allowing for the legal, commercial use of unmanned aircraft (drones) in film and video productions.
With an increasing demand for the commercial use of drones in the US, the FAA began issuing exemptions to the regulations in late 2014. However, the exemptions impose significant hurdles, including the requirement that the drone operator possess a pilot's license for full-size passenger carrying aircraft. "Our FAA exemption is significant because it places Flying Cross in a very small group of legally-operating aerial film companies," said founder Scott Hess.
Film and video producers that continue to hire drone companies operating without an FAA exemption run risks that their productions will be shut down by a visit from an FAA official, or that their insurance coverage will be affected by non-compliance with the laws and regulations. Hess said, "You don't want to be on set operating without an exemption with a large production crew counting on aerial shots–not to mention running the safety risks that the exemptions are designed to mitigate."
Flying Cross Aerial Productions' unmanned aircraft solution fills an important gap between large camera cranes and jibs, and the use of full-size helicopters for aerial filming. "A full size helicopter is still the only choice for a lot of aerial shots, so we continue to offer that capability through our partners, but the drones can turn in a big beauty shot or a close-in chase shot, all in the same flight, and that saves a lot of time and money on the production," Hess explained. "There are other benefits, too. With an FAA-approved operations and procedures manual, you know you're getting a flight crew with experience and an aircraft that's been properly maintained. These are all requirements of the exemption that translate to a better product and a safer set."
About Flying Cross Aerial Productions
Founder Scott Hess brings over 30 years of production and aerial filming expertise using full-size aircraft to their unmanned aircraft offering. He is also a commercially rated pilot and aircraft mechanic. Flying Cross Aerial Productions is based in Austin, TX. More information about the company can be found on its website,http://flyingcross.aero.