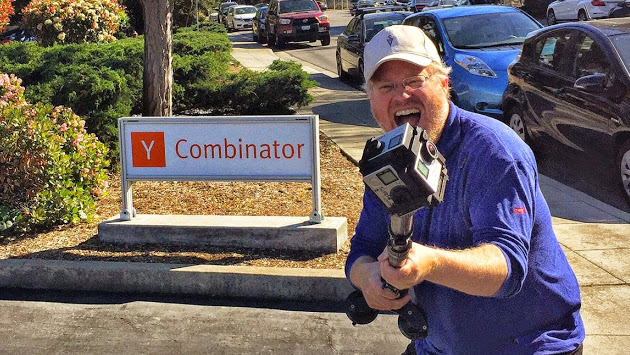 Eric Cheng of DJI, Sean Varah of MotionDSP and Nick Pilkington of DroneDeploy Discuss How Drones are Moving from Hobbyist to Commercial Applications, and How Drone Video Data can Help Transform a Variety of Industries
[April 21, 2015]: Small Unmanned Systems Business (sUSB) Expo, San Francisco, CA—Drones are clearly capturing the attention of consumers as well as a variety of large commercial markets, and the sUSB Expo will highlight a number of thought leaders and experts in the burgeoning drone industry, April 29 through May 1, 2015 at San Francisco's Golden Gate Club in the Presidio. To attend for $200, please visit sUSB Expo's website: http://susbexpo.com/sign-up/?ee=3
In addition to a variety of highly anticipated speakers, the sUSB Expo will showcase an expert panel on Wednesday, April 29, 2015 at 4:10pm. Moderated by Robert Scoble, and including panelists Sean Varah, founder and CEO of MotionDSP, and Eric Cheng, DJI GM and SF Director of Aerial Imaging, and Nicholas Pilkington, co-founder and CTO DroneDeploy, the panel, "Drones: The Transition from Consumer to Prosumer," will share a number of industry examples where drones are being used to answer critical questions through the use of expert video footage captured, with examples of how computer vision software can help automate and extract clear truth from drone video footage.
"Drones are being used for a variety of reasons, from helping save lives to fixing infrastructure to farming," said Robert Scoble, Futurist at Rackspace. "Of course, everyone is familiar with military use, and the hobbyists have been perfecting drones for years, but now, we're seeing high end drones that can withstand heavy winds, carry heavier camera equipment, and take better video for commercial purposes. I look forward to the Expo, and connecting with leaders in the drone industry to see what's being advanced in the commercial drone market."
"Of course, we're excited about this year's show, our line up of speakers, as well as this panel we've put together for our attendees," said Patrick Egan, conference organizer and the Managing partner at sUAS News, www.suasnews.com. "At the Small Unmanned Systems Business Exposition we cover many of the commercial and business drone applications including mapping, search & rescue, aerial photography, and more. We don't cover any military or police applications as our focus is on making the world a better and more inclusive place."
The trend in the field of drones over the last few years has grown from hobbyists flying drones to major commercial organizations using drones for advancing data collection in industries like agriculture, oil & gas, real estate, videography, security, inspection, surveying, and others. The value is fast becoming the drone video data being collected, and industries are taking advantage of computer vision software to exploit the data, in order to find answers to specific questions and solve critical problems.
"Turning video and images into actionable information is the next big trend in the drone enterprise," said Varah of MotionDSP. "We need to think about how to display all this data in an intelligible format. And, automation is key to adoption. Automation of drone flight collection plans is paramount; being able to quickly convert images and video into useable data is possible today, offering organizations an advantage. Storing and displaying archived information will be the next challenge."
About MotionDSP
MotionDSP is a leading provider of advanced imaging processing and computer vision software that helps commercial organizations and governments extract critical information from real-time video to answer high stakes questions. MotionDSP's solutions support operational deployments within the US Department of Defense and National Intelligence agencies, as well as within the homeland security, law enforcement communities, and commercial markets
About DJI
Headquartered in Shenzhen, widely considered China's Silicon Valley, DJI benefits from direct access to the suppliers, raw materials, and young, creative talent pool necessary for sustained success. DJI offices can now be found in the United States, Germany, the Netherlands, Japan, Beijing and Hong Kong. As a privately owned and operated company, DJI focuses on our own vision, supporting creative, commercial, and nonprofit applications of our technology. Today, DJI products are redefining industries. Professionals in filmmaking, agriculture, conservation, search and rescue, energy infrastructure, and more trust DJI to bring new perspectives to their work and help them accomplish feats safer, faster, and with greater efficiency than ever before.
About Drone Deploy
While DroneDeploy has become the simplest and fastest tool on the market for automating workflows and providing real-time aerial imagery, we will continue enhancing our product to provide more value and new functionalities for end users in both existing and new markets.
About The Small Unmanned Systems Business Exposition
sUSB Expo is bought to you by sUAS News, the worlds leading unmanned aviation news website. sUAS News is run by unmanned aircraft pilots and constructors for unmanned aircraft pilots and constructors. It is the only independent RPAS news source on the web.
About Sean Varah: Dr. Sean Varah is founder and CEO of MotionDSP, provider of computer vision and video analytics software, helping companies find critical information from real-time video to answer high-stakes questions. Prior to MotionDSP, Varah was an entrepreneur and corporate investor in Silicon Valley, directing technology investments at Sony Music, where he led the Series A investment in Keyhole, acquired by Google in 2004, and is now known as Google Earth. 
About Eric Cheng: Eric Cheng is DJI's Director of Aerial Imaging, and is responsible for DJI's SF office. Throughout his career, Cheng has straddled his passion for photography, entrepreneurship, technology and communication. An award-winning photographer in underwater, terrestrial and aerial domains, he also runs Skypixel.org, an informative blog focused on aerial camera technology, and Wetpixel.com, the leading underwater photography community on the web. His work as an aerial imager has been featured in Wired, Outdoor Photographer, Popular Photography, Washington Post, WSJ, Make, Photography Week, ABC, CBS, and CNN.
About Robert Scoble: As Futurist for Rackspace, the leading Managed Cloud Computing Company, Scoble travels the world looking for what's happening on the bleeding edge of technology for Rackspace's start up program. He's interviewed thousands of executives and technology innovators and reports what he learns in books ("The Age of Context," a book coauthored with Forbes author Shel Israel, has been released at http://amzn.to/AgeOfContext), YouTube, and many social media sites where he's followed by millions of people.
About Nicholas Pilkington: Nicholas is the CTO and co-founder of DroneDeploy – a software platform that enables fast aerial data and simple drone operations. Originally from Johannesburg, South Africa, Nicholas earned his degree in computer science, math and information systems from Rhodes University. After graduating he worked at NVIDA in Santa Clara as a software engineering researching General Purpose Computing on GPUs. In 2008 he moved to the UK and completed his Ph.D in Machine Learning at University of Cambridge as a Nelson Mandela Scholar. He worked in the NLP group at the Toshiba Research Laboratory on Gaussian Process Experts and then at Base4 Innovation on nano-pore sequencing and alignment technology.