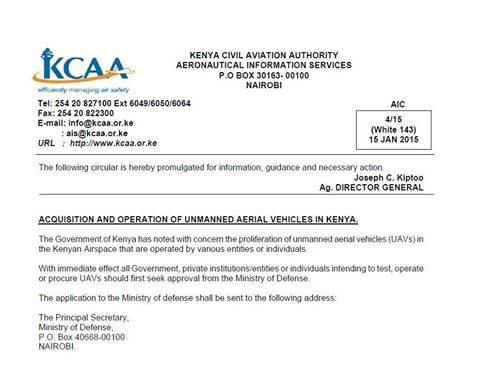 As the crowd was waiting for President Kenyatta to arrive for the Jamhuri Day celebrations last year, an aircraft caused a brief scare after it was spotted hovering over Nyayo Stadium.
Even the Chief of the Kenya Defence Forces, General Julius Karangi, directed members of the celebrations committee to order the people controlling the machine to land it.
The aircraft was safely landed and the celebrations went on without a hitch.
The offending aircraft was a drone — an unmanned aerial vehicle. A month later, security sources said the drone belonged to a local media house.
Last week, another drone was spotted hovering over the grounds at Jaramogi Oginga Odinga University during the funeral service of Fidel Odinga, the son of ODM leader Raila Odinga.
These are just two of at least a dozen drones that have been spotted at various public and private ceremonies, including weddings and parties. It was difficult to establish how many individuals or entities own and operate drones because there is no register for such aircraft.
The Kenya Civil Aviation Authority (KCAA), the agency mandated to license the drones, said those flying them are doing so illegally.
Through Communications Manager Mutia Mwandikwa, KCAA said its hands are tied because of lack of a regulatory framework.
"It is true that we don't have regulations. So the authority is not licensing any drones at the moment. In fact, any drone or small aircraft seen at public functions is being operated illegally," he told the Nation.
KCAA is currently working with the Ministry of Transport to come up with regulations on the operation of drones.
"Since there is a security dimension to the use of drones, we will have to involve the military and the Department of Defence. The Communication Authority of Kenya will also be involved as radio frequencies are used to control the drones," he said.
Some of the factors that will need to be considered in formulating the regulations include the possibility that people may use them to invade the privacy of their neighbours.
There is also the possibility that the government may use it to spy on citizens as has been the case in some Western countries, leading to mass protests .
"It is a dicey situation and it is going to be difficult to cover all the bases. But we have to start and learn as we go," said Mr Mwandikwa.
Fears that drones could be used by terrorist agents to drop bombs at key targets are not unfounded as there have been numerous cases of the aircraft being used in military operations by countries such as the United States.
But the militarisation of drones is fast being pushed to the periphery in Western countries as more development-focused uses are found for them.