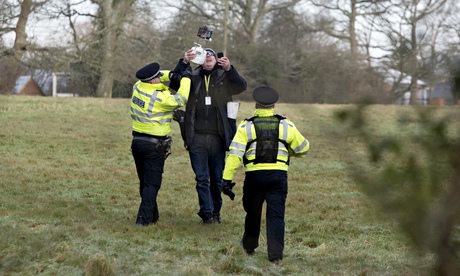 A freelance photojournalist who carries out aerial photography work using a flying drone has accused police officers of dangerous behaviour, after they arrested him while he was filming near Gatwick airport and attempted to land the drone themselves.
Eddie Mitchell, who works for a range of organisations including the BBC, said that he was released with no further action after he was held for hours following his arrest while gathering imagery relating to a fatal fire near Lingfield.
Mitchell, a trained drone pilot who is also one of the few journalists with approval from the Civil Aviation Authority (CAA) to commercially operate Small Unmanned Aircraft (SUA), said he did not need to advise air traffic control as he was operating a drone weighing under 7kg at the time.
"I identified myself to police officers at the scene and said that I would be putting a drone up," he said.
"Twenty minutes later, while I was flying it a sergeant arrived and shouted 'get the drone down now'. I said that I couldn't talk as I had it in the air. All three of them then came at me, ripped the controller from my hands and slapped cuffs on me."
"All three of them tried to bring it down. They were passing the controller between them but it was all over the place."
He added that drone was eventually brought back to the ground with a thud but after it had completed what he described as some dangerous manoeuvres.
Mitchell, who trades under the name of Aerial-News, said that the officers from Surrey police told him that he was being arrested for a breach of the peace. He said that he was released after nearly five hours in custody with no further action taken. However, his drone was still in the possession of Surrey police. He intends to lodge complaints with the Independent Police Complaints Commission and CAA this week.
Photographs taken at the scene and subsequently posted on Twitter showed Mitchell being detained by three police officers who are seen reaching for a controller from his hands and appearing to try to operate it while he held to one side.
Surrey police said in a statement: "A 49-year-old man has been arrested on suspicion of breach of the peace following an incident in Newchapel earlier today."
http://www.theguardian.com/uk-news/2014/dec/31/drone-photojournalist-arrested-gatwick-aiport-near?CMP=twt_gu