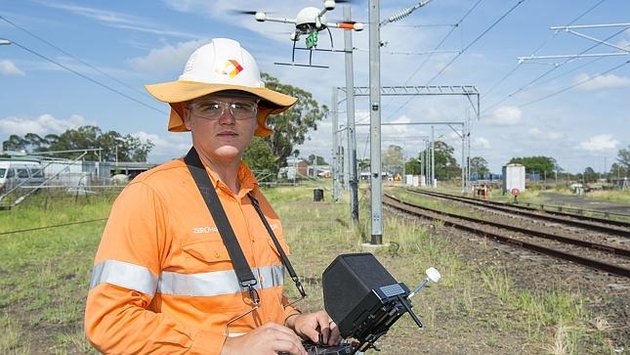 Aerial inspection of the rail network: Aurizon, Australia's biggest rail company, uses two UAV of the German microdrones GmbH to survey its entire transport infrastructure. The company from the German City of Siegen beat its international competitors in the tendering and contracting procedures of the Australian transport company. Decisive reasons for choosing microdrones were unique, customized product details, such as the »Twin Camera Mount System«.
The ›Twin Camera Mount System‹ was exclusively developed for Aurizon by our Australian partner APS«, explains Sven Juerrs, CEO of microdrones GmbH. The system is equipped with a Sony A6000 digital camera with a resolution of 24 megapixels and a FLIR infrared camera. »It is possible to switch between the high resolution photo mode and the thermography mode during flight«, says Juerrs. Due to that the entire inspection process will be quickened. At the same time the md4-1000 quadrocopter provide valuable data during the inspection flight. These can be used by Aurizon to perform important maintenance work.
Besides that the system has been equipped with a removable 7-inch-display which enables the UAV to work independently from its base station. »The rough and impassable operating conditions of the Australian outback demand a high amount of mobility and flexibility. By using removable displays we take this into account«, says Juerrs.
Moreover, also the base station has been modified for the operation Down Under: Due to integrated batteries and own displays the base station works wireless and autonomously. »The user just needs to remove the lid and the receiving antenna extends automatically. Press the power switch and the microdrone is ready to go«, underlines Juerrs. This may not sound very exciting, states Juerrs, but makes a huge impact in practice: »Once the drone system supports the pilot in the application, he can fully concentrate on his key task, the inspection.« Due to microdrones open interfaces (mdSI2, Downlink-Decoder, etc.) and the professional and smart integration of the Australian partner Paul Martin from APS, microdrones is able to realize a great amount of customized solutions.
The railway company has high hopes for the acquisition: »Safety is a top priority«, says Alex Harnby, who leads the UAV project for Aurizon. But he is confident that operational failure caused by damages on catenaries and buried cables can be reduced by 50 percent within the next three years due to the usage of the microdrones. In total Aurizon has to survey more than 2,600 kilometres of rail network.