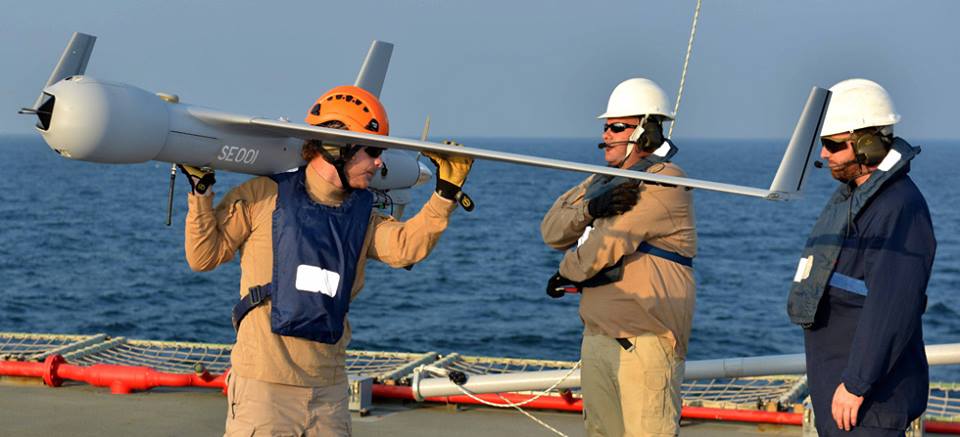 The X-men have taken hold in the depths of Cornwall with the formation of the Navy's first squadron of unmanned aircraft.
700X – X for 'Xperimental' – Naval Air Squadron will be at the vanguard of the Fleet Air Arm's venture into the world of unmanned flight with 'eyes in the sky' pilotless aircraft.
The squadron has been established at RNAS Culdrose to oversee the deployment of Remotely Piloted Air Systems (RPAS) to pave the way for similar aircraft in the future.
For nearly a year, ScanEagle has been launched from the decks of HMS Somerset, Northumberland and Cardigan Bay, and is now being flown from HMS Kent, which has just arrived in the Arabian Sea to begin counter-piracy patrols.
Launched by a catapult on a 14ft ramp, ScanEagle can remain airborne for 12 hours operating at ranges of up to 40 miles from the mother ship, beaming live video of what it sees – by day or night, thanks to its electro-optical and infra-red camera – directly into the ship's operations room.
Since being introduced to ships deployed east of Suez at the beginning of the year, ScanEagle has clocked up nearly 1,500 hours on missions.
It was brought in to provide eyes for the Royal Navy's minehunting force in the Gulf, but has proved equally useful in counter-piracy and counter-smuggling operations thanks to its ability to constantly watch over a boarding operation – or monitor a suspicious vessel pretty much undetected.
http://www.royalnavy.mod.uk/news-and-latest-activity/news/2014/november/25/141125-700x-scan-eagle