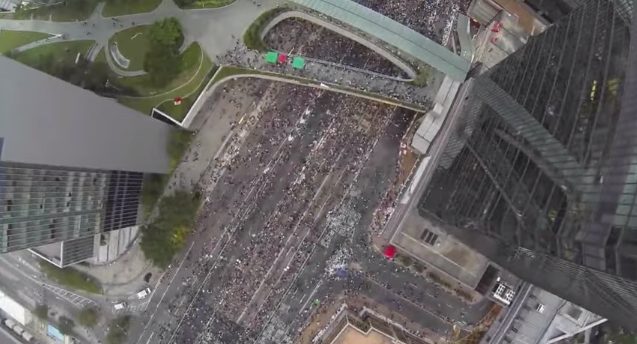 For five days, tens of thousands of demonstrators have come out into the streets of Hong Kong as part of Occupy Central. The protesters are there to oppose China's decision to limit the candidates for the city's next election, which takes place in 2017.
The movement was initiated by Benny Tai Yiu-ting, a law professor at the University of Hong Kong, Chan Kin-man, a Chinese University sociologist and Reverend Chu Yiu-ming, a Baptist minister.
Using Drones To Protect Nature
The yearning for democracy stems from Hong Kong's past. For 150 years, it was a British colony. But in 1997, England returned Hong Kong to China under certain agreements. One of them maintained that the people of the region would retain a "high degree of autonomy." Unlike their Chinese counterparts, Hong Kong residents have separate passports and the city has its own currency. The central authority in Beijing agreed that it would not interfere and promised that election of the territory's leader would one day be fully democratic.
Drones Could Rescue Drowning Victims
But over time, those promises began to waver. In 2004, Beijing reinterpreted the Basic Law and ruled out democratic elections for 2012. There were protests then, as well. But these more recent protests stem from even tighter restrictions, namely that a 1,200-strong nominating committee in Beijing would hand pick two or three candidates for whom the residents of Hong Kong would vote.
Hence the protests.
Earlier this week, a drone flew over the protests and captured not only the density of the crowds but the calm manner in which the people have gathered. So far, Chinese authorities — known for their bloody crackdown of pro-democracy demonstrations in Tiananmen Square in 1989 — have not reacted.
http://news.discovery.com/tech/robotics/drone-video-records-throngs-of-hong-kong-protesters-141002.htm