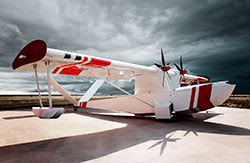 Singular Aircraft, based in Malta, London and Barcelona, releases the first amphibian RPA (Remotely Piloted Aircraft) to the market, equipped with a twin engine, with capabilities to land and take off on unpaved runways or on water, ice and on snow, both at day or at night.
Its adaptation to any environment is absolute, while being also the most affordable in its sector and fully customizable to any client's needs.
From Singular Aircraft we wanted to bring a versatile UAV to the market, that reduces significantly the
cost of acquisition and the costs of maintenance; and finally we got it.
The multifunctional drone
The Flyox I has been designed to suit the individual needs of each client, being fully customizable. Nevertheless, we designed five basic configurations for the following specific applications: cargo, firefighting, agriculture and surveillance.
Multifunctionality is one of its great attributes, accompanied by a substantial price decline, not only the acquisition, but also the operation..
Several countries have expressed an interest in purchasing Singular's Aircraft for its multifunctional abilities.
Versatility and cost savings
Some of the hallmarks of Flyox I are its cargo transport capacity, its high autonomy in flight hours, and its capacity to take off and land on short runways. Additionally Flyox I has automatic take off and landing functions, as well as various various flight modes, like the option to program preset flight paths, etc.
Please find more technical specifications on out website.
The company is open and invites opinions from prospective clients, in order to adapt the Flyox I to any needs. Thus, on our website you can find our contact data where you can send your questions or suggestions.
Flyox I marks a turning point in the current aviation scene. And that is how Singular Aircraft is working on this innovative scenario, with the firm belief that the future of aviation begins here and now.