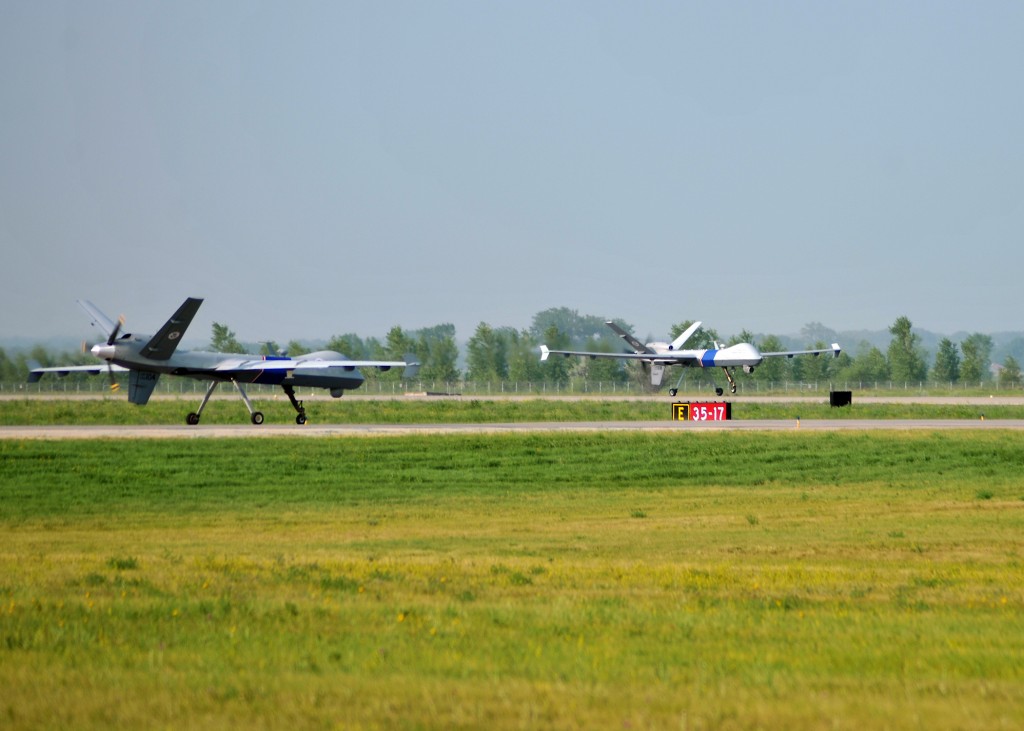 by Staff Sgt. David Dobrydney 319th Air Base Wing Public Affairs
8/1/2014 – GRAND FORKS AIR FORCE BASE, N.D. — The 319th Operations Support Squadron supported a milestone in unmanned aerial vehicle aviation Aug. 1.
For the first time, the Federal Aviation Administration authorized two UAVs to operate simultaneously in a traffic pattern of unrestricted airspace.
"This is the result of a year and a half of planning between the 119th [Wing], 69th [Reconnaissance Group], 319th OSS and [U.S. Customs and Border Protection]," said Tech. Sgt. Nick Stegman, 319th OSS assistant chief controller.
While two unmanned aircraft operating simultaneously in close proximity in the same unrestricted airspace is a first for the base, Stegman emphasized the real significance of the flights.
"We're creating a stepping stone for the [Federal Aviation Administration] to integrate UAVs into the national airspace," he said. "This isn't just for us."
In further evidence of collaboration, the two MQ-9 Predator Bs that flew belong to U.S. Customs and Border Protection.
"To be first to have two unmanned aircraft in the same airspace is something we wanted to do for a while," said Jeffrey Deem, CBP lead flight operations specialist. "Having that restriction off, we are able to have positive outcomes for both the Air Force and Customs and Border Protection."
Monitoring the flight was Airman 1st Class Cole Nesbitt, 319th OSS air traffic control journeyman, and Senior Airman Kyle Thwing, 319th OSS air traffic controller. They both recognized the great responsibility they were taking on, as they were solely responsible for keeping the aircraft separate and avoiding a collision.
"I think it's awesome to be part of history," said Nesbitt. "Hopefully this will lead to bigger and better things. This is where it starts."
For Thwing, the morning's flights held an extra unexpected significance. During the pattern, a manned civilian aircraft requested permission to do a brief runway approach which Thwing seamlessly worked in.
This not only meant that the first integration of manned and unmanned aircraft had just taken place; it also earned Thwing his FAA control tower operator certificate.
"I was not expecting that," Thwing said afterward. "You just have to go with it and take opportunities when they come."
Leadership of the 319th Air Base Wing, 319th Mission Support Group and 319th OSS were also on hand to watch the proceedings. As they left the tower, they left proud of the accomplishments of both their Airmen and their mission partners.
Lt. Col. Jonathan Castellanos, 319th OSS commander, said, "I'm extremely proud of the hard work and professionalism of the 319th OSS controllers in enabling this historic event."