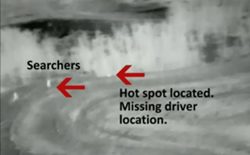 On May 9th, 2013 at 00:20 hours the Royal Canadian Mounted Police (RCMP) investigated a single roll-over accident in a rural area of Saskatchewan, Canada. Ground units and a manned helicopter searched for the seriously injured driver for two hours until the RCMP called in the Draganflyer X4-ES sUAS system equipped with a FLIR thermal imaging payload to assist. The seriously injured driver was quickly located using the sUAS. Now this historic event is being preserved for all to see and experience at the Smithsonian's National Air and Space museum.
The Draganflyer X4-ES is an electric powered quad-rotor helicopter capable of carrying several different payload systems. In the search and rescue mission, the helicopter was flying with a FLIR TAU camera system transmitting live aerial video to the RCMP officer operating the aircraft during the search. The FLIR camera quickly located three potential heat sources, one of which was the injured driver. With the aid of the aerial perspective and real-time live video feed, the pilot directed rescuers to the injured driver. Had the driver not been located, it was determined that he would have died from the injuries sustained during the crash and exposure to the cold.
Smithsonian's Nation Air and Space Museum:
The National Air and Space Museum's Steven F. Udvar-Hazy Center is located in Chantilly, Va., near Washington Dulles International Airport. The National Air and Space Museum building on the National Mall in Washington, D.C., is located at Sixth Street and Independence Avenue S.W. Attendance at both buildings combined exceeded 8 million in 2013, making it the most visited museum in America. The museum's research, collections, exhibitions and programs focus on aeronautical history, space history and planetary studies. Both buildings are open from 10 a.m. until 5:30 p.m. every day (closed Dec. 25).
About Draganfly Innovations:
Draganfly Innovations, the longest running manufacturer of multi-rotor helicopters in the world and the maker of the first civilian small Unmanned Aerial System (sUAS) to be credited with saving a life, designs Draganflyer helicopters, the best aerial vehicles in the world, along with Draganview control software. A recognized technology and industry leader, Draganfly shapes the aerial imaging and public safety revolution with its gyro stabilized camera payload systems and digital video down-link technology. Draganfly has reinvented the Unmanned Aerial Vehicle and is defining the emergency services market with the Draganflyer Guardian and X4-ES systems. For additional information, contact Draganfly Innovations at 1-800-979-9794, [email protected]fly.com, or check out their website at http://www.draganfly.com/.