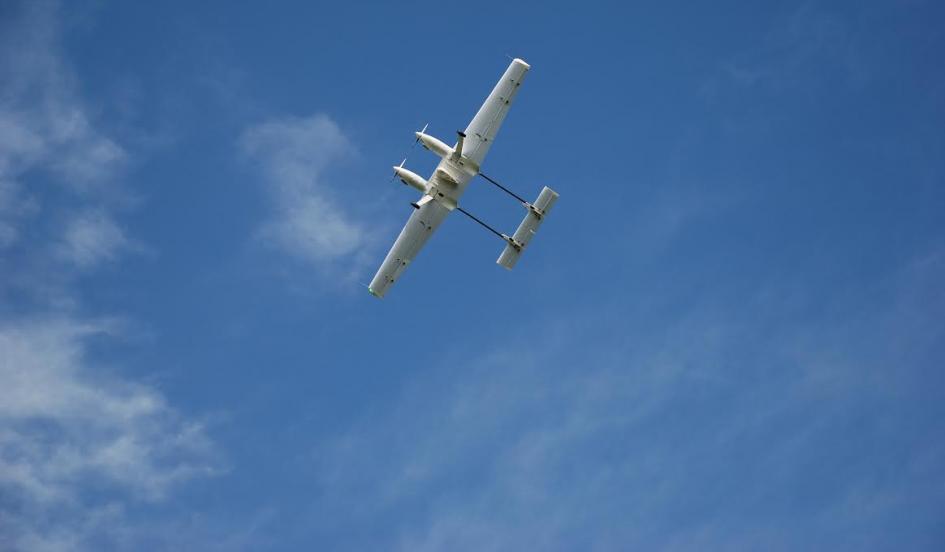 By Thomas Grose
On a bright, sunny afternoon on July 9th, a white unmanned air vehicle (UAV), its two 2.75 horsepower engines whirring, taxied smoothly down a finely mowed field of dark green grass. After a short distance, it lifted off and effortlessly soared to an altitude of 100 metres. It banked right, then began flying large, lazy circles above the rolling, grassy hills of the Wiltshire Downs in southern England.
After 10 minutes, the drone which has a wing span of around 4m – gently returned to Earth and taxied back to its ground crew. It was the second of 20 short test flights it made that day. For the first 14, the drone was controlled remotely by a pilot on the ground, but it flew the last six tests entirely on autopilot run from a laptop.
Small UAVs are already not an infrequent sight in the low altitudes of UK airspace, but what made this drone a rare bird was how it came into being: most of its key parts, including the fuselage and fuel tank, were fashioned in lightweight nylon by a 3D printer. Three years ago, University of Southampton researchers, led by Jim Scanlan, a professor of aerospace design, scored a world first when they built and flew a UAV constructed entirely from parts made by additive manufacturing, or 3D printing. That original UAV, four iterations ago, was smaller, with a 4-foot wingspan. Since then, Scanlan's team – armed with a £3m UK government grant – has been successfully working to prove that drones can be designed, built and tested in the relatively time-warp speed of less than two weeks using additive manufacturing.
But now Scanlan has set his sights on an even larger target. He wants to prove that the 52-pound, 3D-printed drone that swooped over the still-green wheat fields of Wiltshire last week is a prototype for next-generation cargo planes.
http://www.newsweek.com/next-chapter-flight-cargo-planes-without-pilots-259717