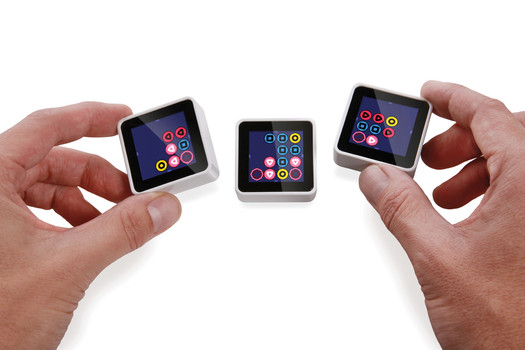 Leading consumer and hobbyist drone manufacturer 3D Robotics of Berkeley announced Tuesday that it has acquired San Francisco-based electronic-toy maker Sifteo for an undisclosed sum.
According to a press release, the focus of the newly combined companies will be on "expanding 3D Robotics' current marker leadership position" in the drone sector and "establishing a similar market leadership in more out-of-the-box products for the everyday consumer."
3D Robotics, founded in 2009 by former Wired editor-in-chief Chris Anderson and Jordi Munoz, is known for its multicopters, radio-controlled planes and autopilot hardware. It employs 180 employees in North America.
Sifteo, also founded in 2009, developed and retailed Sifteo Cubes, high-tech blocks that sense and react to users and each other, allowing users to play games within and between blocks.
"When we first engaged with the Sifteo team and saw their skillset, experience and IP portfolio, we immediately recognized the impact they would have working with us to transform and grow the consumer drone market," Anderson said. "We are thrilled to have the resources of both groups together to lead what we believe will be a billion-dollar market over the next few years."
In Sifteo's "farewell" statement, the company noted company chiefs Jeevan Kalanithi and Dave Merrill are also very excited about future projects with 3D Robotics, though they offered equally little detail as to what those might be.
"When we were presented with the chance to join forces with a company that is redefining how we interact with and connect the digital and physical worlds—flying robots—we had to say 'yes!'" they wrote.
Possibilities for the newly combined company are purely speculative, but some note Sifteo's technologies may be combined with drones to allow cooperative tasking between drones and drone-swarm navigation.
Before the announcement, Sifteo had been working with developers to design new games and activities for the Sifteo Cubes. It offered no information on whether those partnerships would continue post-acquisition.
The company did say, however, that customer and technical support for Sifteo Cubes will remain open until August 1, 2015.
http://www.examiner.com/article/3d-robotics-buys-interactive-toy-maker-sifteo-for-undisclosed-sum