The Parrot Bebop (AR.Drone 3 to some)  was unveiled to the public at sUSB Expo 2014 for the first time last Friday. Parrot CEO Henri Seydoux an sUAS News reader spoke the day before at the show.
Slated to come out in 2014 the Bebop is first to market with an interesting gimbleless camera stabilization process the camera is a f2.2 fish-eye lens with a 180-degree angle of view and a 14-megapixel sensor. A built in GoPro if you will.
It can capture video at 1080p full HD resolution; the AR.Drone 2.0 was limited to 720p. Video is recorded to the Bebop's 8GB of internal storage (there's no microSD or SD card slot) in MP4 format. The extra pixels allow users to digitally pan and zoom the picture. The camera is soft mounted to resist camera shake physically aiding image stabilization.
Most importantly perhaps the Bebop is light, very light its maximum weight is 400 grams and its small. Regulators are going to have less of an interest in this machine. How its outdoor flight performance works being so light remains to be seen.
The original AR Drone flew very well out of the box and was easily controlled by my sons using an android app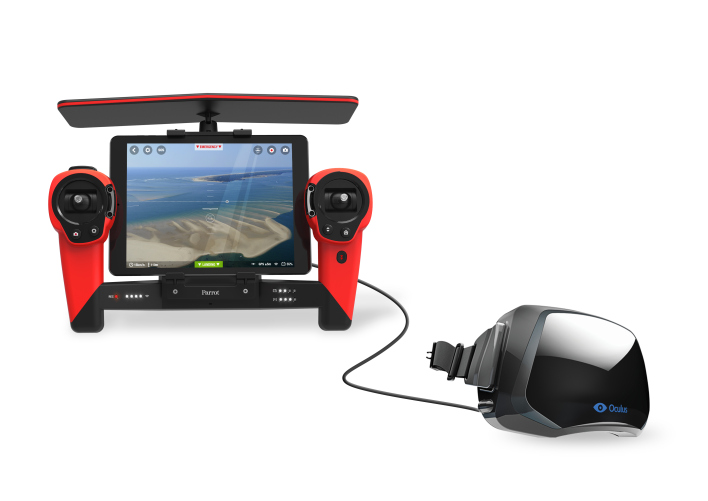 and tablet. For my old head not so much.
The Bebop has an accessory that made my heart sing. A well designed tablet doc that uses a large 2.4Ghz antenna to boost the signal and shade the screen. Now that's clever.
The Skycontroller also has sticks! That's the bit I like. For me physical sticks make for a much finer fidelity of control. That could speak to my age really!
From the image right you will note that the Bebop is Oculus Rift ready which must please Facebook. At the minute I'm not quite sure how that works with a single camera but I'm sure somebody smarter than me will be along with an explanation shortly.
Oh I nearly forgot all this innovation has my mind spinning, the Bebop is GPS enabled out of the box. Waypoints, loiter hover and return to launch here we come.
Countries without regulation really need to start speeding up the process. The Bebop looks just the job for a quick roof inspection and other inspection tasks. No doubt if its outdoor flight can handle a bit of wind these platforms will start appearing all over the place.
Parrot know what they are doing with quadcopters. They have taken a while to bring this new version to market. I suspect  it is arriving small and perfectly formed.
A glance at the AR.Drone Academy website shows nearly 100,000 people registered, well over a million flight hours logged in 3814 locations that's a lot of 6 or 7 minute flights.. Take note of that million hour figure a few press releases out of Orlando this week will contain it. They will be showing off about military flight hours. Civilian drones have started later but caught up and overtaken their military counterparts in hours flown.
Children that have grown up with the AR.Drone and graduate to the Bebop will be in my opinion be the first generation of civilian unmanned aircraft pilots. They will work in a world of clear rules and reliable kit.
Right now where have my boys put the AR.Drone I need to get up to speed again in anticipation.