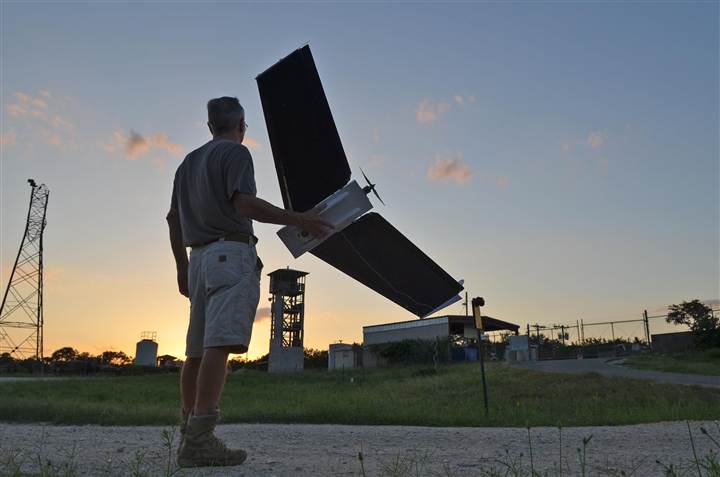 A search and rescue group is suing the Federal Aviation Administration after the government agency ordered the volunteer outfit to stop using drones, and the case could have ramifications for civilian drone operators across the country.
Soaring 400 feet above quarries, fields and open lakes, a fixed-wing Spectra drone equipped with a camera can cover large areas much faster than people on the ground — which is why Texas EquuSearch has included such radio-controlled aircraft in its volunteer search and rescue missions since 2005.
Since then, drones have assisted in locating missing people, helped volunteers on the ground navigate treacherous terrain, and increasingly attracted the unwanted attention of the FAA.
Eugene Robinson, who flies his camera-equipped drone as a Texas EquuSearch volunteer, says the benefits outweigh any risks. He says he follows the FAA's voluntary guidelines for operating model aircraft, and has never had an accident. "We have proven how effective it is," he said. "We have been patient for 8 years."
The endings are not always happy. In 2012, photos taken during a 15-minute flight helped identify the red shirt and remains of a 2-year-old boy, which had been missed by searchers on the ground. In all, a drone used by Texas EquuSearch has helped locate the remains of 11 missing people, bringing closure to their families.
But the FAA insists that such flights are not permitted in U.S. airspace. At the root of the FAA's disapproval is a 2007 law which prevents unmanned aerial vehicles (UAVs) — including remote control hobby planes — from being used for businesses. Texas EquuSearch is a not-for-profit, volunteer organization.
The FAA's objections to EquuSearch's activities have intensified over the years, according to the group.
In 2007, Robinson was called in to help search for a 26-year-old pregnant woman who went missing from Lake Township, Ohio, only to be told by the FAA, "you really don't want to fly." In several other cases, including the 2008 search for Caylee Anthony in Orlando, the Texas EquuSearch drone was grounded by the FAA in no uncertain terms, according to a complaint filed by the group's legal representatives.
"We ask why is it illegal, and they could never give us a reason why it is illegal," Robinson said. Finally, Robinson and the group said they'd had enough.
In February this year, when Robinson and Texas EquuSearch were called to help find a middle-aged man missing from his home in North Texas, he emailed a pal at the FAA.
There was a search waiting: Had there been any changes to the organization's rules? An FAA official replied, calling EquuSearch's operations "illegal" and asked Robinson to "stop immediately." That's when Texas EquuSearch decided to file suit.
"It comes down to a very difficult decision," Brendan Schulman, Robinson's lawyer, told NBC News. "On the one hand there may be an opportunity to save somebody's life using a drone, but on the other hand the federal government has said this is illegal."
For Schulman, who has made it his mission to liberate small-drone pilots from what he sees as the shackles of the FAA, this is his second suit. In February, the special counsel at New York firm Kramer Levin Naftalis & Frankel convinced an National Transportation Safety Board judge to dismiss a fine that the FAA had levied on another drone pilot and photographer who had sold photos and videos. The FAA has appealed that decision.
As far as the FAA is concerned, hobbyists can launch a small drone and fly it within safe distances of buildings and airstrips, as long as they're not making money off the flight.
The FAA wants anyone else to seek their permission before launching their craft.
So, government groups (like NASA, which owns a Global Hawk and a Predator),police departments (like the Mesa County sheriff's office in Colorado) universities (like the University of North Dakota or the University of Alaska) and commercial manufacturers apply for a "Certificate of Authorization" from the FAA, describing the location and purpose and time for which the group will operate their drones.
In a statement emailed to NBC News, an FAA spokesperson said that the FAA is "reviewing the appeal." Applying for a regular COA is a time-consuming and lengthy process, but emergency COAs can be issued in a matter of hours, she said.
"We are not aware that any government entity with an existing COA has applied for an emergency naming Texas EquuSearch as its contractor."
Schulman's argument is that the FAA's guidelines — including their COA requirements — are a "policy statement" only. The FAA never got around to getting them signed into law. So, their operations are "not legally binding upon the public," Schulman notes in his petition.
"Certainly the FAA takes the position that they have the authority to regulate and shutdown this technology," he said. "That's at the core of our dispute."
Even if the FAA did have the authority to decide when commercial drones flew, Schulman's position is that the Texas EquuSearch drones don't qualify: The crafts are manned by volunteers and the group runs on donations. "The distinction that the FAA now draws between Texas EquuSearch's use of this technology, and that of a hobbyist is entirely arbitrary and capricious," Schulman writes.
The FAA has called and grounded aircrafts owned by other organizations. The Minnesota beer company Lakemaid Beer iced its plans for booze-by-drone after the owner, Jack Supple, got two calls from the FAA asking him to ground the flying bots.
Other companies continue to fly their drones "in defiance," Schulman says. "In our case we're responding with a lawsuit."
http://www.nbcnews.com/tech/innovation/faa-search-rescue-drone-suit-could-have-widespread-impact-n87776