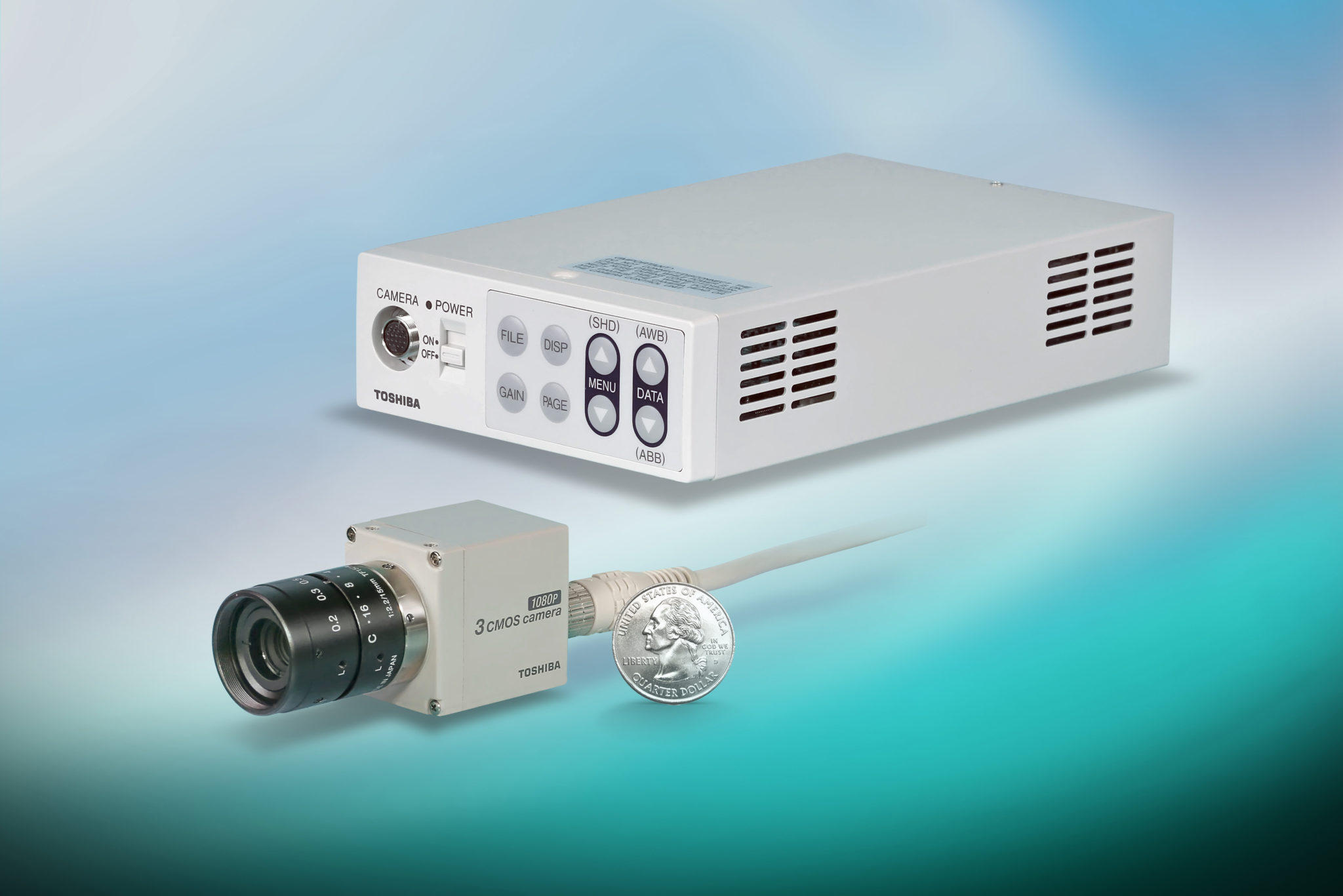 Irvine, CA – Toshiba Imaging Systems Division, (www.toshibacameras.com), a division of Toshiba America Information Systems, Inc., and leading manufacturer of ultra-compact high definition (HD) and high resolution CCD and CMOS video cameras announces the new IK-HD5, a progressive-scan, full HD 1080p/1080i, 2.1 Megapixel, 3CMOS camera for color-critical applications. The innovative CMOS video camera features 3G-SDI/HD-SDI and DVI-D outputs and a removable optical low-pass filter (OLPF) for dual-mode imaging applications in visible light and near-infrared (IR) spectrums.  Other features include expanded menu functions for red filter IR mode and approximately 3dB increased sensitivity in the near IR.
The IK-HD5 camera's three CMOS HD sensors are ideal for use as a component in critical high-def video tasks including endoscopy, surgical microscopy, ophthalmology, infrared inspection and defense imaging systems.  Other applications include a variety of inspection and machine vision operations. The new 1920 x 1080 full HD camera operates at 60 frames per second (fps), switchable between visible and infrared modes. Based on the company's proprietary 3-chip prism color technology, the new IK-HD5 is Toshiba Imaging's first camera to include the 3G-SDI output format. It also has a binning mode for up to 4x increased sensitivity, an image flip and mirror function, 5 user-configurable settings files, and up to 1,000 TV lines resolution.  With the convenient C-mount lens mount and remote control access via RS232, the IK-HD5 is easy to integrate into new and/or existing vision systems.
For more information about Toshiba Imaging's high-resolution, HD color video technology and products, visit:  www.toshibacameras.com.  For more information about the new 3CMOS IK-HD5 with enhanced infrared imaging capabilities, please go to: www.toshibacameras.com/products/prod_detail_ikhd5.jsp.