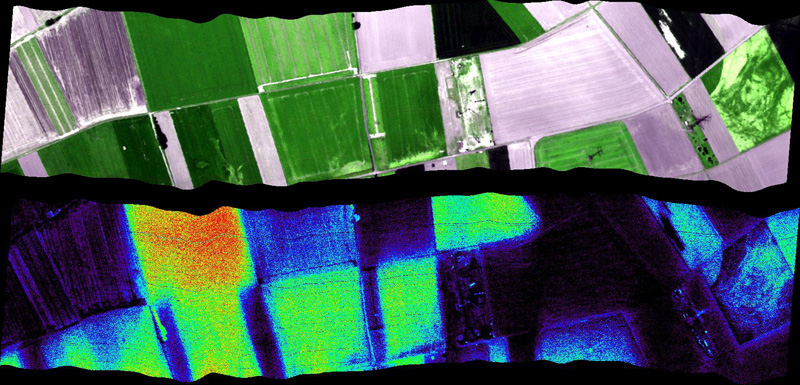 Oulu, Finland: April 15,2014 SPECIM announces the release of AisaIBIS, a robust and very high spectral resolution hyperspectral imager for ground and airborne measurement of sun induced fluorescence from plants.
The most valuable feature of AisaIBIS is its ability to measure the secret light of plants, the weak sun induced fluorescence signal. During the photosynthesis, plants convert light energy from the sun into chemical energy that fuels organism growth. During that process part of the absorbed light energy is emitted back as a faint glow – the fluorescence. Measured fluorescence can be used as an indicator of photosynthetic activity of the plant thus telling its health and vitality.
"AisaIBIS is designed to measure the fluorescence signal by applying the Fraunhofer Line Depth Method. The method is very demanding for the instrument, as it requires high spectral resolution in the order of 0.25 nm, high dynamic range and high signal-to-noise ratio. AisaIBIS is the first commercial hyperspectral imager which meets these requirements even at the image rate required in airborne data collection. It works as a robust tool for mapping the sun induced fluorescence from single leaves to complete ecosystems" states Timo Hyvärinen, SPECIM Sales Director.
SPECIM created AisaIBIS together with Juelich Research Centre from Germany, as the Hyplant sensor, for the European Space Agency's (ESA) Earth Explorer programme called FLEX. The project aims at providing global maps of vegetation fluorescence, which can be converted into an indicator of photosynthetic activity. AisaIBIS works as a precursor for a potential satellite instrument, and is used to produce airborne data for the development of fluorescence retrieval methods and investigation of the quantitative accuracy of the fluorescence measurement. Please see ESA's article (*) for more information.
SPECIM will release AisaIBIS at the 5th International Workshop on Vegetation Fluorescence in Paris 22-24.4.2014 (**), where scientists present the latest results obtained with the first instrument.
About SPECIM
SPECIM Spectral Imaging Ltd. is world's leading manufacturer of hyperspectral imaging instruments and systems. SPECIM provides Spectral Imagers and Hyperspectral Imaging Solutions to airborne, geological, industrial and research customers. Since 1995, SPECIM has delivered more than 4000 spectral instruments to its global clientele.
For further information about SPECIM, please visit www.specim.fi. For more information about AisaIBIS please contact Timo Hyvärinen at[email protected] or tel. +358 10 4244 400.