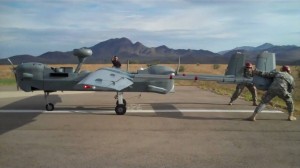 By Alberto Riva
U.S. defense officials say reports from Russia that an American MQ-5B drone was intercepted over Crimea and made an emergency landing there are false. Voice of Russia reported on Friday that "an American scout-attack drone was intercepted in the Crimean sky" and made an emergency landing after an electronic attack disrupted its computers.
"There is zero truth" to the reports, said a Department of Defense spokesperson reached by phone in Washington.
According to the Russian source, the drone, an MQ-5B, belonged, judging by its markings, to the 66th U.S. Military Intelligence Brigade, based in Germany.
The drone was flying at a height of about 4,000 meters or about 13,000 feet, according to Voice of Russia, which said it was in the possession of "self-defense forces." A call to the brigade's German headquarters was answered by a serviceman who said the unit had no knowledge of anything of the sort happening.
http://www.ibtimes.com/pentagon-russian-reports-us-drone-intercepted-over-crimea-are-false-1561578