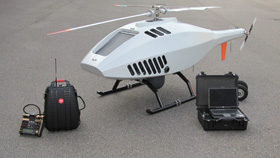 Swedish CybAero, which is listed on Nasdaq OMX First North in Stockholm, develops and markets unmanned helicopters, has gained a new shareholder. AeroVironment, AV, a leading manufacturer of unmanned aerial vehicles ("UAV"), converted one of its two convertible loans, giving AV a stake of just over 8.5% and making them a significant shareholder in the company.
The SEK 10 million loan now being converted into 1 062 699 shares was issued more than a year ago by CybAero as part of a larger business arrangement between AeroVironment and CybAero. The conversion price is 9.41 SEK/ share. AV continues to hold an additional SEK 10 million convertible loan, bearing the same terms as the loan now being converted.
"We are pleased that AeroVironment decided to convert one of the loans and become a major shareholder of CybAero. We look forward to continued cooperation with AV", said CybAero CEO Mikael Hult.