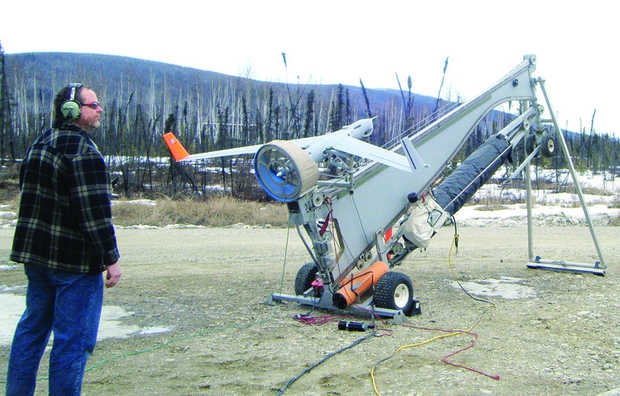 BY CASEY GROVE
Coming soon to a sky near you: unmanned airplanes and helicopters being tested in Alaska for commercial and industrial purposes.
Whether drones are to be used for delivering cargo to the Bush or scouting sea ice off the Arctic coast ahead of offshore drilling, there are many things the unmanned aircraft can do safer and cheaper than their pilot-carrying counterparts, their proponents say. What has yet to be decided is how commercial use in the United States will be regulated, especially in areas with heavy air traffic or high concern for personal privacy.
That's where Alaska comes in.
Federal Aviation Administration officials announced Monday their approval of proposals from six states, including Alaska, to oversee testing sites for the possible commercial uses of drones. The move is part of a congressional mandate to safely integrate the aircraft for wider use in U.S. skies and an effort to create standardized rules for flying them. Along with regulating drones comes figuring out new ways for the private sector to use them and educating the public about what to expect.
The Alaska-based program will be managed by the University of Alaska, which called its 13 planned test ranges the "Pan-Pacific Unmanned Aircraft Systems Test Range Complex." It includes six flight ranges in Alaska, four in Hawaii and three in Oregon and is set to begin operating in mid-2014, the university said.
Along with approving the Alaska-based testing, the FAA announced Monday that Nevada, New York, North Dakota, Texas and Virginia will also host test sites. The six states' proposals beat out applications from 25 entities in 24 total states.
The FAA already has extensive regulations for manned aircraft and the people who sit inside piloting them. But the regs under which unmanned aircraft will fly do not exist yet, FAA spokeswoman Alison Duquette said in a phone interview Monday.
"We need to come up with standards and rules for how we're going to certificate these types of aircraft and how they're going to operate in the airspace," Duquette said. "Obviously Alaska is a good test area, because it is different, and it has a huge general aviation population, and it is a different climate and very different geographically than the rest of the country."
Key questions the FAA wants answered include how the drones will sense other aircraft and obstacles and avoid them, what types of controls a pilot on the ground will have, how they will maintain control of the aircraft, and what happens if that link is lost. The FAA must also have standards for the airworthiness of specific aircraft designs and how their operators will interact with air traffic controllers, FAA officials said.
The FAA projects some 7,500 commercial drones could be aloft within five years of getting widespread access to the skies above America, the Associated Press reported.
Alaska is already home to the only unmanned aircraft approved for commercial use in the country, two drones flown over the Chukchi Sea for oil and gas producer ConocoPhillips, Duquette said. Those flights in the Arctic are different from what is expected to be much greater commercial use in the near-future, because the airspace there is not as crowded and the flights were conducted with a very specific plan, not under the set of standardized regulations the FAA wants to draw up, Duquette said.
The plan, as mandated by Congress, is to have unmanned aircraft flying commercially in the U.S. by 2015, Duquette said.
"We know this will be a phased-in approach, so over next five to 10 years," she said. "Our main concern is doing it safely."
Ro Bailey, deputy director of the University of Alaska's Center for Unmanned Aircraft Systems will be oversee the project, the university said. The companies hoping to conduct drone testing — and who will pay to use the sites and the testers — range from a one-man engineering firm all the way up energy giant BP, Bailey said in a phone interview.
"All of these partners came to us or we approached them, and the one goal we all have is to be a part of making this new history," Bailey said. "Alaska has a great history for being a pioneer in new technology for aviation, and once again we get to be a pioneer and they're signed up for that."
In the public sector, drones have already been successful in Alaska at things like mapping wildfires and sea ice, Bailey said. Researchers have even flown unmanned aircraft over the blowholes of whales to sample what they exhale, something Bailey called a "whale Breathalyzer" that allows biologists to learn about the whale's health, among other things. But just as the military and universities have in the past developed technology later used in the private sector, it is time for drones to take that next step toward commercialization, she said.
"Realistically, we're not supposed to compete with the commercial world, and so our goal is to support the development of the commercial side and the rules, so that ultimately we can see this promise develop into something really big, and in Alaska," Bailey said.
Aside from being able to test the drones in a variety of landscapes and climates, the Alaska program also offers diversity in terms of eventually seeing how the unmanned aircraft will work in busier aviation environments, Bailey said. The first test flights are expected for less-populated areas. And while people in cities like Anchorage will not see drones in the sky for some time, drone flights will slowly get closer and closer to the more populated parts of the state, she said.
Simply put, integrating drones into the airspace means learning how to avoid other planes and making them easy to spot, Bailey said.
"In terms of general aviation, unmanned aircraft are the latest addition to the airspace, so it's our job to be 110 percent sure that we stay away from (other planes). But, of course, everybody's job is to stay away from everybody else up there," Bailey said.
Another aspect of drones working their way into day-to-day life, Bailey said, is communicating with the public and educating people about them so that they are more accepted. Bailey acknowledged that some people see unmanned aircraft in a negative light, at least in part because their first knowledge of drones came from learning about military uses overseas.
"Because what they do is surveillance and shooting things and stuff like that, that's what people see and they worry about it. And I don't blame them," Bailey said. "You overcome that kind of stuff by a combination of communication and education and establishing solid rules and demonstrating consequences for people who don't follow those rules, and establishing a pattern of behavior that allows people to relax about the whole thing."
FAA Administrator Michael Huerta said Monday that the agency is requiring test sites to have a written plan for how the tests will collect and use data and how long the data will be kept, the Associated Press reported. There will also be annual reviews, including public comment, on privacy-related issues.
American Civil Liberties attorney Catherine Crump called on Congress to take steps toward protecting privacy first, the AP said.
"Someday drones will be commonplace in U.S. skies and, before that happens, it's imperative that Congress enact strong, nationwide privacy rules," Crump said in a statement.
Alaskans' high regard for personal privacy is just another reason the state is a great testing ground, said Sen. Mark Begich, who asked state lawmakers in 2011 to appropriate $5 million for university drone research (they did, in 2012) and lobbied for the test sites while in Washington D.C.
In congressional committee meetings, Begich said, he pitched Alaska as a place with robust public dialogue about privacy rights and a place with strong privacy protections in the state constitution.
"That's part of the discussion, having the test bed here, and having that conversation with Alaskans I think will set the tone of what we do nationwide, and that's important," Begich said. "If you want to know what should be protected, Alaskans will tell you that. We are not bashful."
Read more here: http://www.adn.com/2013/12/30/3252336/expanded-drone-testing-now-for.html#storylink=cpy