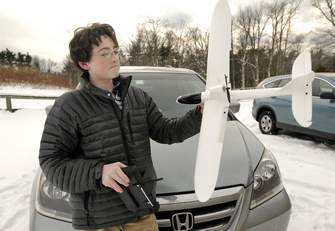 By Susan Spencer TELEGRAM & GAZETTE STAFF
Ethan Foley of Paxton has a drone. The 14-year-old freshman at Wachusett Regional High School flies the SpyHawk FPV radio-controlled airplane equipped with live video feed, which he bought for $250, over a soccer field near his home, collecting images that he uploads to YouTube.
"I can see things that I can't see from down here," Ethan said. "The regular RC flying was getting old. This gives it a new perspective."
Until recently the domain of military intelligence, airstrikes and spacecraft, unmanned aircraft systems — the Federal Aviation Administration's term for drones — have become a focus of domestic policy as lawmakers consider whether technology has opened a Pandora's box of civil liberties and safety infringements or reflects advancements to solve pressing human problems.
Most see a little of both.
Cindy Foley, Ethan's mother and a teacher at West Boylston High School, said, "It's immediately obvious how you could spy on your neighbors (with the drone), but we don't."
"This (technology) is so potentially dangerous. We have to make sure there's a common sense balance between privacy and public safety," said Kade Crockford, director of the Technology for Liberty project at the American Civil Liberties Union of Massachusetts.
Drones have been used by law enforcement agencies recently for border patrol surveillance and search and rescue operations, and could potentially be used in any SWAT-type emergency. The FAA allows this use in national airspace through approving certificates of authorization. But it's the surveillance capabilities, in particular, that have raised concern.
"The barrier to obtaining a drone doesn't exist," she said. "Contrary to the claims of drone manufacturers and police departments, drones are not helicopters. They're cheap, they're small, they're quiet."
Ms. Crockford said ACLUM strongly supports the Drone Privacy Act pending in the state Legislature. The bill would prohibit state and local governments from using drones with weapons and it would require police to get a probable-cause warrant for surveillance. Emergency exceptions could be obtained to protect life and safety, such as in a mass shooting.
A hearing will be held on the Drone Privacy Act by the Joint Committee on Transportation on Feb. 5.
At the national level, the FAA announced recently it was developing policies to integrate drones into the nation's airspace. It named six test sites, including Joint Base Cape Cod, to develop research findings and experience to ensure safe integration. Regulations could come as early as 2015, a deadline imposed by Congress in the FAA Modernization and Reform Act of 2012.
Sen. Edward J. Markey, D-Mass., introduced legislation in November that would require the FAA to set standards for ensuring privacy and promoting transparency in the rules it develops for drones.
"As technology, we've had this ability for quite some time. Of course we have to evaluate it, now we do have expanded capability," said Nikolaos Gatsonis, director of aerospace engineering at Worcester Polytechnic Institute.
"In terms of policy, the access to airspace has to have a strong regulatory footprint. You can use it for good purposes and bad purposes."
WPI is conducting research funded by the U.S. Air Force to use drones equipped with sensors to detect moving sources of contamination, such as toxic gas dispersed by an intruder.
"We don't develop the UAVs (unmanned aerial vehicles); we develop the software and intelligence to use them," Mr. Gatsonis said. "We can pack a lot more intelligence in a smaller size because of miniaturization."
The small, inexpensive and widely accessible aspects of drones have given rise to possibilities that previously didn't exist.
"I think some of the implications for it are revolutionary," said Ward Thomas, professor of political science, who studies international relations, at The College of the Holy Cross. "It further blurs the line between what is done in public and what is done in private."
Mr. Thomas said public concerns about domestic drones were heightened by revelations last spring that the National Security Agency had been collecting widespread cellphone data on private citizens.
"What gets defined as an unreasonable search and seizure under the Fourth Amendment?" Mr. Thomas asked. "There's a broad range of possibilities where information would be gathered that couldn't be obtained before."
He said the same thing is true of Internet technology, tracking how we browse and to whom we send email. Mr. Thomas asked, "Is there any expectation of privacy at all?"
David C. Fisichella, manager of scientific services at Woods Hole Oceanographic Institution, said that amid the negative publicity and hype, including Amazon CEO Jeff Bezos's "impractical" plan to deliver packages by drone, UAS technology holds promise for advancing science and shouldn't be overly restricted.
He also didn't want to see a patchwork of state regulations around the country for non-state purposes.
"Once the public sees what they're capable of doing, and the advantages, I think they'll be more comfortable that they're flying about. The social benefits of these systems are quite profound," he said.
Mr. Fisichella said drone technology is already used for crop and land-use imaging, coastal zone management, wildlife and marine mammal identification and tracking, meteorological data collection, remote sensor placement, sea ice mapping/tracking and other applications.
"The interesting thing is the law governing UAS," Mr. Fisichella said. "As a hobbyist, I can fly in U.S. airspace with minimal interference. If I do the same thing for research for WHOI, it's a violation of the law."
Any time someone gets paid for using a drone, even if it's a nonprofit research institution, it's considered commercial use, he explained. Commercial or other civil use is currently prohibited unless the FAA has given specific approval for the application.
Hobbyists like Ethan can fly drones with very little regulation. They just have to keep below 400 feet and stay away from airports and air traffic.
Mr. Fisichella said researchers at WHOI, acting as hobbyists, are in experimental stages of taking very thorough video footage of marshland, using a drone. After a storm, they can send the drone out for more video to look at the impact. This research adds to scientists' understanding of climate-change impacts.
Previously, Mr. Fisichella said, a laboratory would have to hire an aircraft for aerial photos, which would be more costly and would get lower resolution images than with a drone. Because of the expense, the data wouldn't be collected as timely.
He said drones are also being used for estuary and river studies to detect changes not visible from research vessels, and for studies of penguin colonies in which a hovering helicopter would disturb the penguins.
The Association for Unmanned Vehicle Systems International, the drone industry's largest trade organization, released its first economic study last March, which forecast $82 billion in economic impacts by 2025 from integration of UAS into national airspace.
By 2017, the report indicated, Massachusetts would see 1,985 jobs, $386 million in economic impact and $3.36 million in new tax revenue.
"Given the caliber of the research and educational facilities within Massachusetts, the Commonwealth is well positioned to take advantage of these new opportunities only if it does not place impediments for access to these systems in our airspace," Mr. Fisichella wrote to state Speaker of the House Robert A. DeLeo, D-Winthrop, last summer.
Drone capabilities are changing so rapidly that even the industry group acknowledged in its economic study it couldn't make comprehensive projections. Now it's up to policy makers to grapple with these changes, a daunting task according to many interviewed for this article.
"With new technology, how do we apply old rules in new situations?" asked Mr. Thomas. "The regulations tend to lag behind."
http://www.telegram.com/article/20140127/NEWS/301279932/1116