Eyewitness News
NEW YORK (WABC) — A small helicopter drone flying high above buildings on the East side of Manhattan crash landed just feet away from a businessman during the Monday evening rush hour.
The drone is small but the FAA says it should not have been flying hundreds of feet above a crowded Manhattan sidewalk.
The businessman who almost took a direct hit from the unmanned device, recovered its video card from the debris and then reached out to us.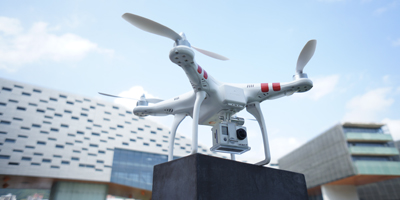 The video from the crashed drone shows it taking off from a high-rise terrace in Midtown Manhattan on Monday. It's evening rush hour and below thousands of New Yorkers are heading home, unaware that 20 to 30 stories above them, a small, 3-pound radio-controlled helicopter with a camera is flying overhead.
"Choosing their own personal enjoyment over any of the consequences," a businessman, who asked not to be identified, told us.
The financial analyst contacted us after the drone crash landed just feet away from him as he was walking home Monday near Grand Central Station.
"My first thought was someone has done something reckless and could have put people in danger," he said.
The drone's camera records video of some of the city's most iconic buildings: The Chrysler, Met-Life, and Grand Central. It's clear though the operator is inexperienced as he loses control of the unmanned aircraft several times, slamming it into high rises. The flight 300-to-400 feet above Midtown lasts about 3 minutes before it strikes the corner of a building and crashes to the street below, missing the businessman by feet:
"They made conscious decision to fly something they don't have control over obviously through the most crowded city, most crowded time of the day and I can't believe there's no law against this," he said.
We've learned the drone is called the Phantom Quadcopter because of its four plastic rotor blades. It can be bought on the internet for under $500 dollars. Although small, the FAA considers it an "unmanned aircraft system."
A spokeswoman tells us, "We do not currently permit the operation of unmanned aircraft over congested areas like Manhattan."
"The people who did it are clearly identifiable on the video," he said.
The financial analyst says he called police and showed them the video, which identifies the drone operator. Despite seeing something and saying something, he claims police did nothing.
"I got the sense they knew it was something out of the ordinary and they didn't know how to handle it," he said.
The NYPD says the incident is being investigated to determine whether reckless endangerment is involved.
http://abclocal.go.com/wabc/story?section=news/investigators&id=9270668