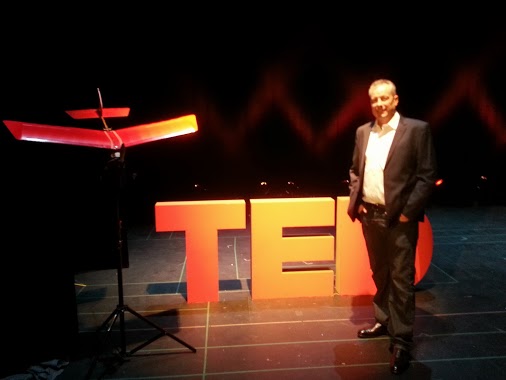 It's New York, and noticeably, a very different mix of attendees. Few of the usual industry suspects were there, but plenty of new faces from the ever-expanding niches of this burgeoning industry. That's not to say that all of the attendees were strangers as several have been guests on the podcast, and many others have been featured in news stories run on the pages and various social outlets of the sUAS News.
I always enjoy meeting the people who have been in the news or who I've interviewed in the past. It gives me a chance to follow up on their accomplishments hear updates and see another side of those who may have been wrongly affronted in the 2D world of the Internet. There is still no substitute for the face-to-face discussion. There are nuances, inflection and gestures that are still lacking on the interface of keyboard and screen. It is these sidebars that make the traveling and time spent all worthwhile.
While on this subject. I would like to take this opportunity to say thank you to all of the readers and podcast listeners who approach me and take the time to say so many kind things about the sUAS News. Gary and I take great satisfaction in providing the community a friendly place to land.
Like most other conferences, we had the usual presentational musical chairs with some of the speakers falling out, and late entries added. In this instance, the speakers and presenters rounded out a very diverse spectrum of interested parties. A sampling of developers, coders, end-users and critics that are carving out a space for themselves and making names in this community.
We have been a community operating in silos who's unload auger has just started to turn. Again, with the glaring exception of the U.S. which still lags far behind. This situation has put a huge dampener on potential as the primary legal income stream has been funneled and filtered through the DoD. Exaggerated costs, claims and actions, have done little to further the aims of the small business end-user community.
The panel prior to mine was Life Under Drones. Without a doubt, it was a hostile discussion centered on the ills (both perceived and real) of our present society and trying to lay the blame on or insinuate that drones are to be included in the fault tree. It is basically droneism. This droneism, like any other ism, is based in ignorance and usually strives to counter or erode any and all constructive contributions that can be made by the group being denigrated.
It strikes a cord of irony that we should shoulder the blame as the group faulted for not doing enough to change the current President's foreign policy thus redeeming ourselves for the social ills that exist. I know drones are seen as magical, but this trick may be a little beyond the grasp of a group held down and hobbled by mid level bureaucrats.
Things improved a little with the following panel, A Right to Drones. This panel included Christina Dunbar-Hester, Frank Pasquale, John Villasenor, the author and finally, was moderated by Christopher Wong. Ms. Hester contends that most of what we would call tinkerers and hackers are in actuality military industrial folks seamlessly shifting gears between their paid vocation and hobby. When not droning they are buying and reading Ayn Rand. We may have found another application for Amazon, and possibly a catchy new name for a drone company, Atlas RPA.
I think the droneism extends beyond the bounds of reality, and some folks have bought into the hyperbole, braggadocios and other innuendo wafting out of the sensationalized press hook line and sinker. Let me set the record straight, this "drone" technology sprang right off of the shelves of the hobby shop and predates the video game and or any CIA "kill list" missions in Afghanistan and or Pakistan. However, drones do not predate the bigotry that detractors would foist upon the technology i.e. racism, sexism and war.  Possibly it is a roundabout way to protest policy without running afoul of a wider agenda? When you distill the complaints down (especially in Berkeley), they are antiestablishment and quietly critical of the current Presidential administration. Whatever the case, the Cracker Barrel and I will not buy into any ill will or notions of responsibility for policy where we hold no sway. If we did indeed hold that kind of political influence, I contend that this industry might already be flourishing in the U.S. National Airspace (NAS).
I will say that we most certainly need to keep the conversation going as it has been proven universally that education is the most effective way to counter the ignorance of any ism, drone or otherwise. It was not my aim to get bogged down in negativity, but I believe that it is the first step in the said education notion.
Afar of the histrionic swamp, we were treated to some really interesting ideas and a raised bar for applications including SenseFly's mapping of the Matterhorn https://www.suasnews.com/2013/10/25547/sensefly-map-the-matterhorn/  (outstanding), RoboBees and Cameron Rose's autonomous ornithopter. The Nodecopter guys have even inspired me to try my hand at writing code. A leap for a guy who has been firmly in the user not programmer camp prior to this conference, but is now ready for some indoor mayhem.
More value derived from the conference was some of the scientific and applications presentations. Safe to say, that as the years go by, we attract more users and pile on the viable applications. Some are storm-chasers other artists. Unfortunately, there were anticipated speakers who could not make the conference due to the government shutdown. Too bad as some of these folks are collecting real data and making exciting discoveries employing the technology the organizers hoped to showcase.
Andra Keay (Robot Launchpad) raised an interesting question during a side bar (paraphrasing), what is the disruptive use or application for this technology?" While many agree it holds a lot of promise, and I see that promise baseline as the ability of the individual to engage in low cost self guided remote sensing. That is the promise that offers efficiencies to a myriad of different businesses and industries. Beyond that, I don't believe will we realize the disruptive part until we have commonsense regulations in place.
Another intriguing comment was made by Eileen Shibley (California UAS Portal), and again paraphrasing, she asked why would we allow this regulatory situation to be put upon us? Very frustrating indeed as most folks are waiting for it (regulation) to work itself out.
These examples were by no means the only good conversations or points aired, but it is hard to capture the complete and wide breadth that was covered. There is much to takeaway and contemplate from the views shared at this conference, and I eagerly look forward to next year's DARC iteration.