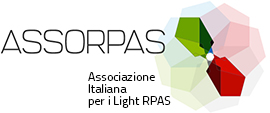 Last 16th of September ASSORPAS, the Italian Association born to aggregate Light RPAS (so called "drones") companies, had an important official meeting at ENAC (the Italian Civil Aviation Authority) in Rome.
After contacts with ENAC General Directorate, an ASSORPAS delegation, made by president Paolo Marras and Directors Antonio D'Argenio e Martino Montagna met Mr Enea L. Guccini, Head of Safety Standardisation Directorate, and Mr Carmine Cifaldi, Head of Aeronautics Products Certification Directorate.
During the meeting the Association introduced to ENAC its different represented realities, activities and members instances. The meeting has been the occasion also to introduce the Association point of view about the market and to gather important information about the on-going rule making process for its members and for the market itself.
ASSORPAS reached the important goal of accreditation as a partner at the Italian Civil Aviation Authority and, among the others, has found positive response to the proposal of the association to create an Observatory on the application of the Implementing Rules which will see the participation of key actors (government, associations, etc..) and whose activities will be aimed at achieving a "fair regulatory level".
For further information about ASSORPAS please visit www.assorpas.it or contact us at [email protected].