The days of summer are flying by and what better way to spend the last few weeks than with the limited edition AR.Drone 2.0 Power Edition. With a super sleek new hull design and customizable propellers the AR.Drone 2.0 Power Edition is a fun for all ages.
Customize this limited edition to have the most exclusive machine on the block withblack, blazing red, fiery orange
and cool blue propeller sets. Capture the annual family reunion in a birds-eye view with a 720p HD camera and enjoy 36 minutes of operating time with two 1,500mAh lithium-polymer batteries. The fun is endless with this highly powerful and colorful quadricopter.
The AR.Drone 2.0 that suits you!
Each pilot can customize their AR.Drone 2.0 to make it an even more exclusive flying machinebecause, in addition to the standard black propellers, the 'Power Edition' has three additional sets of propellers, including: blazing red, fiery orange and cool blue.
The indoor and outdoor hulls have also been revamped with a piano black finish to give the AR.Drone 2.0 a more formidable look.
36 minutes of flying time!
With the 'Power Edition,' AR.Drone 2.0 fans can enjoy the powerful new high-density lithium-polymer battery, which extends the flight time of the AR.Drone 2.0 by 50 percent! Because it is an exclusive edition, it includes not just one, but two of these high-density batteries!
With a total of 36 minutes of flight time, you can unleash the full potential of your Parrot AR.Drone 2.0 and become the master of the sky!
Share your adventures live!
Enjoy the futuristic look and enhanced capabilities of your Parrot AR.Drone 2.0 and share your adventures and customizations on theAR.Drone Academy, a virtual meeting place dedicated to the AR.Drone pilot community.  Get connected via the free piloting application available on the App Store℠ or Google Play℠.
The exclusive, limited series "Power Edition" includes:
l 1 Parrot AR.Drone 2.0
l 1 piano black indoor hull
l 1 piano black outdoor hull
l 2 High Density batteries
l 4 sets of propellers (blue, orange, red and black)
l 1 "circlip remover" (to change propellers)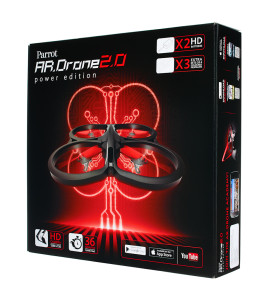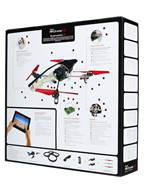 The Parrot AR.Drone 2.0 'Power Edition' is available at Brookstone for $369.99
(Complete list of outlets available at www.parrot.com)