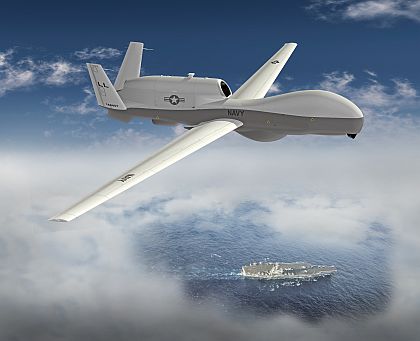 AAP
The high altitude surveillance drones advocated by the opposition aren't the complete answer to detecting asylum seeker boats in Australia's northern waters, a senior customs official says.
Detecting irregular maritime arrivals is a clear priority and the seven Triton aircraft sought by the opposition would make a useful contribution, Australian Customs Service manager of maritime capability Nic Arthur says.
But it remains extremely challenging to detect small boats in heavy seas through cloud cover.
The question of whether Triton were the best way of searching for unidentified vessels from high altitude needed to be investigated further, Mr Arthur said.
"Yes, additional aircraft would be terrific. Is a high altitude long endurance UAV (unmanned aerial vehicle) the best tool for providing detection of small vessels? I think the jury is still out," he told a seminar on drone aircraft organised by airpower think tank the Williams Foundation.
Mr Arthur said there was a question of whether Triton would need to descend to a lower altitude to confirm identification of radar contacts, reducing mission durations.
"Can UAVs do it – yes absolutely. If flying at a greater altitude is going to provide us greater coverage we would be doing that with the Dash 8 aircraft right now," he said.
The opposition wants long range high altitude UAVs for surveillance of Australia's waters, watching over offshore resource facilities and detecting asylum seeker boats.
In May the government signed onto the US program for development of the Northrop Grumman Triton UAV with a view to eventually replacing the RAAF's ageing 18 AP-3C Orion maritime surveillance aircraft with a mixed fleet of manned Boeing P-8 aircraft and unmanned aircraft.
Opposition immigration spokesman Scott Morrison said the opposition hadn't committed to any form of technology.
But aerial surveillance was critical for conducting interceptions and also potentially for search and rescue operations.
"There is very little, if any, patrol activity by the Indonesians along the southern Java coast," he told reporters in Perth.
http://au.news.yahoo.com/latest/a/-/latest/17853629/uav-not-best-choice-for-finding-boats/