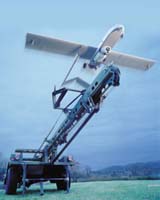 by Spc. Margaret Taylor, 129th Mobile Public Affairs Detachment
NANGARHAR PROVINCE, Afghanistan – With the roar of a particularly loud lawnmower, a light gray unmanned aerial vehicle shoots off a launching ramp into the late afternoon sky to patrol around Forward Operating Base Fenty, Afghanistan, May 2.
Twenty-four hours a day, seven days a week, 365 days per year, UAVs like the RQ-7B Shadow collect intelligence and provide security for troops on the ground in Afghanistan and elsewhere. The Shadow is one of several types of UAVs launched from FOB Fenty, and each machine has its own capabilities and uses.
Taken together, the fleet provides a vital support package for the entire brigade.
"It gives ground commanders a perspective on something they can't always see from a tactical operations center," said Spc. Tyler Brewer, unmanned aircraft systems repair and technical inspector, UAS Platoon, Bravo Company, 1st Special Troops Battalion, 1st Brigade Combat Team, 101st Airborne Division, of Eugene, Ore. "It prevents matters from getting worse for Soldiers on the ground."
This is particularly vital as U.S. troops continue to advise and assist their Afghan counterparts with their country's security.
"The main thing to do right now is to provide coverage for the Afghan National Army so that they can get ready to take control of their country," said Sgt. 1st Class Chad Keirns, platoon sergeant, UAS Platoon, of Cincinnati, Ohio. "We're able to capture a lot of intelligence for the ANA and provide it to them; that way, they can have a more holistic view of what's transpiring."
Keirns, who has worked with UAVs since 2005, said he and others in his field are looking forward to seeing the full potential of UAVs realized as time progresses.
For example, Chief Warrant Officer 2 Ian Geissler, platoon leader, UAS Platoon, of Whitefish, Mont., described how UAVs can help combat forest fires.
UAVs can be sent out ahead of manned aircraft to scout a forest fire's location, direction and burn path, Geissler said, thereby reducing the risk to human life while providing real-time visibility.
In addition, UAVs are less costly to fly than helicopters and eliminate pilot-fatigue in scouting missions, saving the pilots for the actual fire-fighting, said Geissler.
With assisting fire prevention services as but one example of UAVs' potential, the trajectory of the field is bright.
"Right now, imagination is our limit," Keirns said. "There's no cap to the future of the UAV."