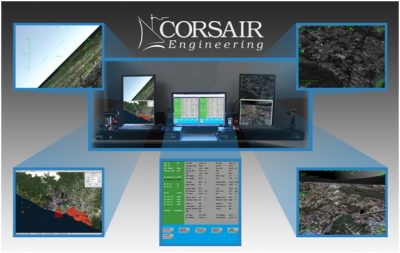 Preparing future pilots for a career in unmanned systems the University Of North Dakota recently accepted delivery of five new UAS Training Systems from Corsair Engineering.
UND acquired three IM3PUT (Integrated Multi-Mission Multi-platform UAS Trainer) systems, and two new IM3PUT Instructor Operator Stations (IOS) that can also be configured as student stations. The new systems have allowed UND to expand their UAS curriculum by providing capabilities that unify the training continuum within their family of simulators, which currently include the L3 Predator Mission Aircrew Training System and the Insitu Scan Eagle Full Mission Training Device (also developed by Corsair Engineering).
The new IM3PUT simulators provide students the ability to practice a myriad of UAS operational concepts including: manual and auto flight operations, sensor operation and management, crew management, communications, emergency procedures, and airspace coordination before being exposed to a specific UAS platform. The IM3PUT Instructor Operator Station also allows instructors to create scenarios and modify them during run-time to train students in applicable real-world missions with evolving operations and environments.
To date, UND's Scan Eagle trainer has amassed 2300 hours of use while maintaining 100% dispatch reliability. The addition of the new IM3PUT trainers will enhance both training throughput as well as overall training capability.
Corsair Engineering Inc. is a veteran-owned small business providing government and industry customers with quality high-fidelity training systems supporting engineering and logistics services.
Corsair Engineering Inc. designs, develops, and delivers cost effective integrated human performance solutions that result in measurable value and productivity improvement. Our values are anchored in "Doing the Right Thing."