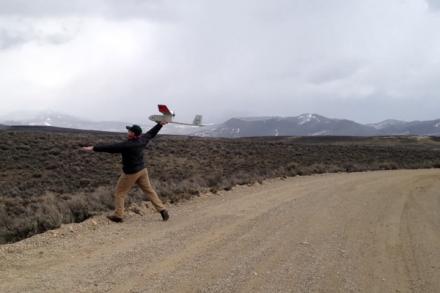 By Grace Hood
The U.S. Geological Survey is turning the unblinking eye in the sky of drones to a more benign purpose. Instead of watching the battlefield, they're bird watching.
Seriously.
In April, scientists spent three days flying a small four-pound Raven A drone above several greater sage grouse breeding grounds north of Kremmling, Colo.
Scientists think that they could make population surveys cheaper by using drones instead of more expensive airplanes or helicopters.
The experiment is part of a larger project within the Department of Interior's Geological Survey to recycle retired military drones. In recent years, the National Unmanned Aircraft Systems Project Office has coordinated with state and federal agencies to use drones to study everything from mountain pine beetle damage in Colorado to documenting bank erosion along the Missouri River in South Dakota.
USGS Hydrologist Chris Holmquist-Johnson explains that right now scientists are trying to figure out if they can capture thermal and photo images of the greater sage grouse using the drone.
What do the birds think?
"So far what we've seen is that they really don't seem to be bothered by it," says Homquist-Johnson. "We're able to get that imagery and they don't flush or move on to a new location."
When it comes to counting birds with drones, the Geological Survey has had previous success counting Sandhill Cranes in Monte Vista National Wildlife Refuge. In 2011 scientists compared results from Raven A flights to those of ground observers. They were accurate enough that in 2012 only the drone was used. In future years, the practice could save federal agencies money.
http://www.kunc.org/post/over-grand-county-drones-are-bird-watching-not-people-watching