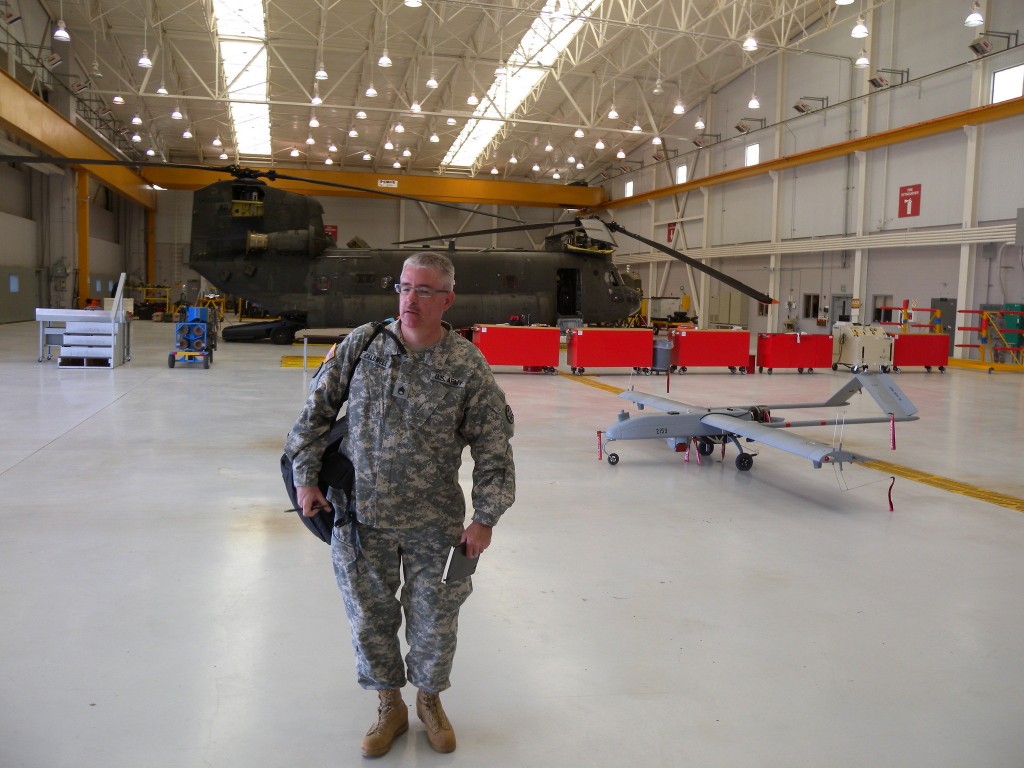 PENDLETON — A 375-pound Oregon Army National Guard drone carrying a sophisticated camera was catapulted into the cobalt-blue eastern Oregon sky here Tuesday, in what Guard officials called the first-ever flight of an unmanned military aircraft through civilian airspace.
Until now, military drones have been confined to restricted airspace above U.S. military bases. The Guard expects to initially fly the four unmanned planes based here twice a month, and later expand the flights to once a week over the Eastern Oregon Regional Airport in Pendleton and wheat fields to the north, said Pat Caldwell, a Guard spokesman.
The brief flight of the Guard's RQ7B Shadow around the airport takes the Guard into potentially controversial territory.
The possibility of widespread drone use has prompted debate in the Oregon Legislature this year, pitting concerns over domestic surveillance against the promise of a tantalizing new industry. Sen. Floyd Prozanski, D-Eugene, and Rep. John Huffman, R-The Dalles, introduced legislation that would criminalize the use of drones to fire missiles or spy on people.
But Guard officials vow that the drones flown from Pendleton will be used for combat training, not peeking poolside or in the windows of homes and businesses.
"Our cameras are here to do military training," said Sgt. Eric Smidt, spokesman for the 27-member National Guard troop platoon that flies them. "As military personnel, we are not allowed to look in on civilians."
Tuesday's flight into airspace designated for general aviation puts the Oregon Army National Guard on the cutting-edge of unmanned aerial system technology, said Lt. Col. Alan R. Gronewold.
"I foresee this expanding greatly over the next few years," said an enthusiastic Oregon Army National Guard Chief Warrant Officer Mark Braeme.
The RQ7B Shadow is eleven feet long, with a 14-foot wingspan and a noise signature like "an unmuffled lawn mower engine on steroids," according to Braeme. The craft is a smaller, unarmed version of the unmanned Predator drones used by the U.S. military to hunt down and kill suspected terrorists in the Middle East and elsewhere.
Guard officals said the plane's $800,000 pricetag is largely due to the cost of its miniaturized and high-tech camera payload.
http://www.oregonlive.com/pacific-northwest-news/index.ssf/2013/05/drones_over_pendleton_unmanned.html