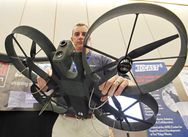 The potential growth of the unmanned aerial systems industry will have an "enormous economic and job creation" impact in the United States, creating at least 2,700 jobs and a $2.1 billion impact in Ohio by 2025, according to an industry group study released Tuesday.
But one Dayton Development Coalition official said the projections underestimated the number of jobs that could be created in the Dayton-Springfield area and across the state.
"There's many other areas that unmanned systems will have, future developments that we think Ohio will be a large player in," said Maurice "Mo" McDonald, vice president of military affairs who has worked on UAV issues.
http://www.daytondailynews.com/news/news/local/uav-testing-could-bring-2700-jobs-21b-to-ohio-stud/nWptf/