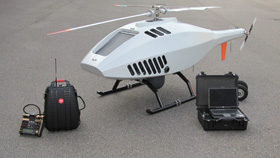 CybAero U.S. partner AeroVironment continues to invest in helicopter UAVs. Now, add to it a bigger blanket of helicopters to meet an expected rapid demand.
The order from AeroVironment is a blanket of € 2.5 million for the supply of helicopters during 2013. Unlike previous orders, these helicopters are intended to be used in the field with customers.
– We are working with CybAero to address an important growing market opportunity for tier 2 helicopter unmanned aircraft systems, says Roy Minson, AeroVironment senior vice president and general manager of its unmanned aircraft systems business segment.
– Our order for more CybAero helicopters will enable us to demonstrate to more prospective customers the valuable capabilities our joint solution can deliver.
The U.S. market alone represents roughly half of the global market for UAVs, says CybAero CEO Leif Erlandsson. – It is a market that we hardly could have entered without the cooperation with world leader AeroVironment. – They are the ideal partner for us on these markets, says Erlandsson.
In November 2012, CybAero and AeroVironment signed a cooperation agreement covering the U.S., NATO and a number of other markets. AeroVironment has delivered more than 22,000 hand-operated fixed wing UAVs, which makes them the world's largest supplier. These deliveries include supplying more than 85% of all UAVs used by U.S. armed forces.