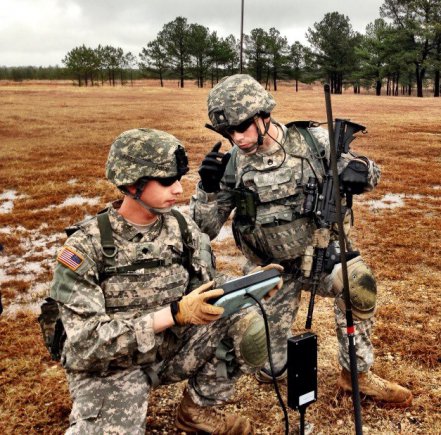 By Cheryl Rodewig, Bayonet staff
FORT BENNING, Ga.  — Experimentation for Spiral H, the Army Expeditionary Warrior Experiment's project for fiscal year 2013, is currently under way on Fort Benning. It's expected to wrap up by the end of the month, with a senior leader seminar Feb. 26.
"The AEWE Campaign is the live component of [U.S. Army Training and Doctrine Command's] live, virtual and constructive experimentation strategy," said Gary Daniel, AEWE lead for the Maneuver Battle Lab. "AEWE provides a credible and repetitive opportunity to experiment with small unit concepts and capabilities, to examine emerging technologies of promise and to accelerate capabilities development."
As an ongoing annual campaign, AEWE has yearly projects with predefined objectives. Spiral H is the eighth annual campaign.
WHAT IS AEWE?
"AEWE is chartered to challenge current thought and constructs, to look outside programs of record and to provide Soldier feedback," Daniel said. "This venue allows Soldiers to have input on concepts and technologies early in their development cycle. The spiral development concept creates an opportunity to reduce development time and costs in an environment which is focused on 'experiment and develop' rather than 'test.'"
Examples include the concept of "networked lethality," which was matured in AEWE, and the benefits of virtual immersive training systems, which were first assessed at the Army level through AEWE.
While experimentation may influence future material development efforts, it doesn't test technologies as part of a specific acquisition decision, said Lt. Col. Aaron Lilley, senior military evaluator from Army Test and Evaluation Command, Aberdeen Proving Ground, Md., and officer in charge of ATEC efforts in support of AEWE.
"AEWE examines emerging concepts and capabilities for the current and future force across all warfighting functions," he said. "AEWE provides Training and Doctrine Command capability developers, the science and technology research community and the defense industry a repeatable, credible, rigorous and validated operational experiment. The outcomes sought are operational in nature — i.e. 'How have we positively impacted the effectiveness of a small maneuver unit by providing certain categories of capabilities?' The technologies participating are representative samples of the newest potential in those categories."
AEWE experiments are conducted by the Maneuver Battle Lab of the Maneuver Center of Excellence, which is authorized to do so by the Army Capabilities and Integration Center, a three-star command under TRADOC.
"In many ways ARCIC is the Army's think tank," Lilley said. "Generally, AEWE spirals consist of several weeks of short duration — less than one day — tactical missions executed by the Maneuver Center's Experimental Force (EXFOR) company."
Those experiments take place in both day and night conditions and are acted out against an OPFOR team, simulating a real-world scenario.
WAHT ARE SOME PAST SUCCESSES?
During last year's experiment, Spiral G, 21 technologies were rated as deserving further evaluation, Daniel said.
Many systems that have passed through AEWE validation are currently deployed, he said. Examples include enhanced night vision goggles, long-range thermal video, combat Skysat, Soldier ISR receiver, KAMAX autonomous resupply and the Dragon Runner unmanned ground vehicle.
"Working together, TRADOC and the Army's science and technology community leverage the AEWE Campaign to get technology into the hands of Soldiers earlier and more frequently," he said. "AEWE also provides an opportunity to evaluate improved capabilities for fielded systems"
Experimentation necessitates extensive collaboration, and partners from the defense industry, Army and science and technology community come together each year for AEWE's annual campaign.
"(It) has also provided insights on training, leaders development, and material," Herrera said. "As for our defense partners, this experiment has provided them invaluable feedback on their systems and the possible employment of those systems in an operational environment."
WHAT IS SPIRAL H?
"This year, AEWE Spiral H will examine network and mission command solutions, enablers for precision fires, new technologies for power and energy generation, immersive training systems, solutions for enhanced lethality and force protection and innovative basing and sustainment systems," Daniel said.
The spiral includes six key objectives.
"The objectives are important because they address issues that affect the individual Soldier and small tactical units across our Army," said Maj. Roberto Herrera, commander of A Company, 1st Battalion, 29th Infantry Regiment (EXFOR), which conducts the experiment. "The overall goal is to identify and assess systems and concepts that primarily focus on enhancing the small tactical unit across all warfighting functions."
For the experiment, EXFOR began preparing months ago with training on the participating technologies and practice missions, Lilley said.
"The EXFOR employs a selected number of the technologies during each mission," he said.
This year, there are 66 participating systems from 11 government sponsors and 33 industry partners, Daniel said.
The missions are monitored by a team of data collectors with Army Test and Evaluation Command, which conducts the final analysis. After each mission, EXFOR Soldiers give their feedback on how the technology worked or didn't work and — even more importantly — how it affected the way the unit fought, Lilley said.
HOW IS IT CONDUCTED?
The experiment is organized around a live Infantry platoon, two simulated Infantry platoons and a company headquarters equipped with a company intelligence support team and a robotics section, Daniel said. The robotics section includes a section leader, unmanned ground vehicle team, unattended ground sensor team and an unmanned aircraft system team. A battalion, equipped with a live Scout platoon, performs the function of higher headquarters.
"We are having a terrific experiment," Lilley said.
"We are enjoying brainstorming about what types of technologies the company should have in order to — first — defend against and — second — attack an enemy's advanced capabilities. For example, what can we do to remove the advantages the enemy gains by flying their own unmanned aerial systems, and what technologies should we invest in to make that feasible?
"Other interesting discussions are taking place about (lightening Soldiers' loads) by moving away from certain hardware solutions and replacing them with applications to be installed on the Soldier's Nett Warrior handheld device — or by replacing them with multipurpose equipment.
The device a Soldier currently uses to collect biometric data from individuals has a single function, takes up rucksack space, has weight and is not networked. Could we satisfy that requirement with an app? There are many possibilities along these lines."
The experiment isn't only about technology. Other warfighting aspects are also considered.
"Another idea under investigation is a proposal that the Army should reallocate forward observers that bring artillery and air support to the unit, in order to push them down to lower tactical echelons," Lilley said. "Does a squad gain lethality from having its own forward observers? What are the positive and negative implications of such a change in organization?"
WHAT IS THE GOAL?
"The overall goal of the experiment is to gain insights into the operational impacts of technologies," Lilley said. "First the experiment attempts to validate that a unit is more effective, more lethal — can achieve overmatch, if you will — when we provide the experimental force technology 'X.' But the second and third order effects are just as important — questions of what does the unit require in terms of training, manning, altered organization in order to fully realize the potential of 'X.'"
At this point, system integration isn't just possible — it's necessary, he said.
"We can now provide so many capabilities to the unit that without integration the force becomes overburdened," Lilley said. "How many monitor screens or workstations can a Soldier manage simultaneously? If the Army's various unmanned aerial systems, seismic sensors, 360-degree persistent surveillance optics, base perimeter remotely operated weapons and other inputs all have their own control stations that don't interoperate and 'speak' electronically to each other, have we added combat power or have we paralyzed the command and control elements with too much to manage?"
WHAT IS SPIRAL I?
The next iteration of the experiment, Spiral I, is set for 2014, but planning for the ninth spiral is already in progress. Last month, the Maneuver Battle Lab selected the participating technologies.
"Spiral I will support and inform multiple efforts including Squad: Foundation of the Decisive Force, technology enhanced capability demonstrations, accelerated capabilities development and network and capabilities integration evaluations," Daniel said.