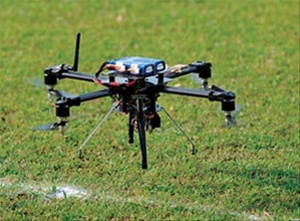 By V Narayan & S Ahmed Ali, TNN
MUMBAI: The city police plan to use unmanned aerial vehicle (UAV) surveillance cameras for New Year's Eve celebrations on Monday. The Netra cameras will hover over vulnerable and crowded spots that the police have earmarked. A police official said the cameras, which will be monitored from laptops, will help track down revellers who sexually harass women.
The police are also keeping an eye on adventure sport organizers following a central Intelligence Bureau (IB) alert of a terror attack through the aerial route, probably with the help of a parachute.
Netra was earlier used during the Ganesh immersions in October and during Maharashtra Navnirman Sena (MNS) chief Raj Thackeray's rally in September at Azad Maidan after the riots. "The UAV was used to observe crowds. It showed areas that suddenly became crowded and required more deployment. It spotted roads where vehicles were wrongly parked, enabling police to take corrective measures. The device will be helpful in terror surveillance too," said a police official.
A senior special branch officer confirmed to TOI, "Apart from taking the help of closed-circuit television (CCTV) cameras installed at shops, residential complexes and other institutions, the police commissionerate has instructed us to use Netra."
The officer added, "There was an IB alert recently that terror outfits will probably use the aerial route to attack places that are heavily crowded on the night of December 31. We are keeping an eye on organizers of adventure sports from the western suburbs from who many people hire parachutes that can take off from the ground level and are fitted with GPS systems."
Sources said that according to intelligence inputs, two to three terrorists have infiltrated into the city and are likely to strike tourist hotspots like the Gateway of India, Marine Drive, major railway stations, Girgaum and Juhu-Chowpatty, the two airports and shopping malls.
"The inputs said the terrorists may target the city to avenge the hanging of 26/11 Pakistani terrorist Mohammed Ajmal Kasab last month," said the officer.
Officials are not taking the IB alert lightly and security has been beefed up in the city. Mumbai police commissioner Satyapal Singh has instructed additional commissioners and deputy commissioners to carry out the bandobast and nakabandis. "We have imposed a security cover all over the city in the wake of the Delhi rape incident, but following the terror alert we have enhanced security in coordination with the Indian Navy and Indian Coast Guard," said another officer. There were 169 terror alerts in 2012, against last year's 350 and 447 in 2010.
The leave of police personnel has been cancelled too. The police are also taking the help of home guards. Several platoons of the State Reserve Police Force, Rapid Action Force, special operation squads and riot control unit have been deployed and many have been kept as backup at the five regional control rooms.
http://timesofindia.indiatimes.com/city/mumbai/Netra-cameras-to-keep-a-close-watch-over-New-Years-Eve-hotspots/articleshow/17824860.cms