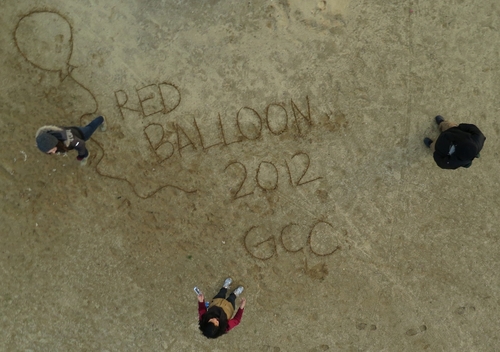 A fantastic example of simple is best from The Public Laboratory, a tethered balloon and GPS equipped COTS camera well done the Grassroots Mapping Team.
On December 5th representatives of New York State's Department of Environmental Conservation mentioned at a Water Quality public information meeting that New York City had notified them of a major sewage spill in the Gowanus Canal. This was a a result of storm damage from the Sandy floods, where salt flood waters flooded generators controlling sewer pump stations at Butler Street at the head of the Canal. 
Entire sewer plants have been disabled as a result of the floods, with City and State authorities working round the clock to get them back online.
6 weeks after the flood, the Gowanus Canal Conservancy and the Gowanus Dredgers Canoe Club did their seasonal vegetation and water mapping of the Gowanus Canal.
It seems like the sewage is still actively flowing into the Canal:
You can view more pictures from the 15 December "Survey the Sludge" expedition here:
http://www.flickr.com/photos/[email protected]/sets/72157629561924342/
The water quality monitoring images will allow local environmental quality groups, such as the Gowanus Dredgers Canoe Club to advocate for locating the vulnerable pumps above the flood zone to prevent these kinds of problems.