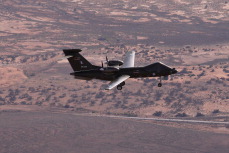 BAE Systems' Unmanned Aircraft Programs Group (UAP) in Tucson, AZ, has signed on as the first customer of thye state of Indiana's National Center for Complex Operations (NCCO).
The NCCO integrates state, federal, military and academia's support to both private industry and public sector entities seeking to use Indiana's unique defense assets.  The streamlined, "one-stop" approach provides customers with ease of access, cost savings and reduced waiting times, according to the NCCO.
Incorporated by Indiana Lieutenant Governor Becky Skillman at the beginning of 2012, the organization connects state, federal, and private interests with services, programs, and training and testing capabilities that serve the U.S. armed forces, government agencies and private industry.
"We create greater efficiencies for our customers and our costs are amongst the lowest in the nation," said Matt Konkler, NCCO executive director in a Sept. 18 statement.
While Unmanned Systems and Robotics is one of the organization's key focus areas, the NCCO said it also focuses on Cyber systems, power & energy, modeling and simulation and special operations.
Konkler pointed to a recent partnership between Indiana and Ohio to pursue one of six Federal Aviation Administration test sites for Unmanned Aerial Systems as a great example.  And he hopes to partner with other neighboring states to create a Midwestern option to customers seeking to utilize the region's outstanding defense assets.
Konkler added that much of this work has practical implications well beyond the traditional defense sector, with law enforcement, Homeland Security, weather forecasting and even agricultural applications being tested and implemented.
"The potential in the unmanned systems arena alone is phenomenal," said Konkler.
Konkler sited the level of cooperation amongst the Indiana National Guard, participating colleges and universities, the Indiana Economic Development Corporation (IEDC) and numerous local, state and federal officials as critical to the success of this initiative.