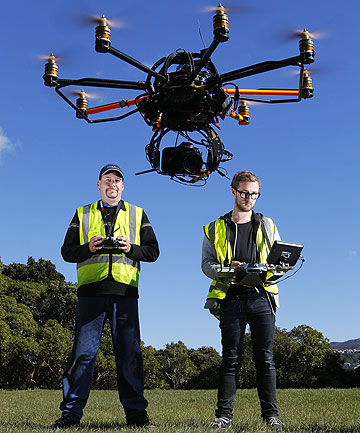 Unmanned aerial vehicles are "not match ready," posing a safety risk to commercial planes, property and people, the New Zealand Air Line Pilots' Association has said.
The usage of drones, known as "eyes in the sky," is up for debate, with NZALPA technical director Stu Julian said New Zealand needs to adopt specific safety and operational standards for the new vehicles.
"It's a growing technology that will serve society, but they are not match ready," he said.
The NZALPA would like UAVs to be used away from people, property and other commercial aircraft until regulation was in place.
Julian's comments follow a similar call by Privacy Commissioner Marie Shroff to think about regulating the use of drones "before they become a problem".
"Privacy isn't the only thing to consider," she said.
"For instance, there are safety implications with drones, if they can interfere with other aircraft or power lines, or if they crash."
Unmanned aerial vehicles (UAVs) could be used to take video footage or photos from air, and are discreet because of their size.
They are already being used commercially in New Zealand, and police are said to be contemplating using them in the future.
Operators are required to ask the Civil Aviation Authority for authorisation before flying a UAV, and they are not allowed to operate in restricted airport space.
http://www.stuff.co.nz/technology/gadgets/7696350/Drones-not-match-ready-Pilots-Association-says