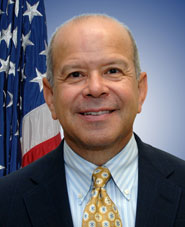 Thank you, Ralph (Alderson), for that kind introduction. It's a great pleasure to be here today.
The size of this conference indicates the potential that exists for unmanned vehicle systems. The people and organizations represented at this conference today are working to make significant contributions that will change the future of aviation.
As you know, the FAA's mandate is to ensure that the largest and safest aviation system in the world continues to become even safer. As the provider of air traffic control, we must ensure the safety and efficiency of the entire airspace including all aircraft, people and property in the system – both manned and unmanned. Our goal is to safely and efficiently integrate unmanned systems into our airspace.
Embracing new technology is nothing new for the FAA. Throughout our history, the agency has risen to the challenge of integrating innovation.
In the 1950s and 60s, the FAA integrated faster and more powerful jet engines into a world dominated by piston engines. In the 1970s, we integrated wide-body jumbo jets and supersonic passenger jets. And now with NextGen, we are transforming our transportation system as we move from radar to satellites. We are transitioning from radio messages to more reliable messages that appear as text on a screen, and we are moving from airways that zig-zag the nation to streamlined routes that save time and fuel.
Innovation is what spurs aviation to new heights. It's what makes America great. And collaboration is the way we are going to integrate new technology into our system. As you know, it requires significant work to build consensus on how to integrate the game-changing technologies of NextGen.
But the world of aviation is an ever-evolving industry. Aviation has progressed in leaps and bounds since its birth in a humble bicycle shop more than a century ago. It has evolved because talented people wondered how to overcome obstacles. And they thought of ways to accomplish things we simply didn't think possible.
We are blessed in this nation to have an environment that fosters and rewards innovation and ingenuity. And we are going to allow new ideas to soar to their potential. That is what NextGen is all about. It's about leveraging technology to improve the way we do business for the traveling public, for airlines, for airports and for the environment. It is about making the infrastructure improvements that are vital to expanding on the 10 million jobs that civil aviation creates and the 1.3 trillion dollars the sector contributes to the U.S. economy.  It's about laying the groundwork for an America built to last and compete.
With that in mind, I have told our employees this year what we need to focus on three core areas:
We must make our system even safer and become smarter about how we achieve enhanced safety.
We need to bring the benefits of technology to the traveling public now.
And we need to empower employees to think innovatively and creatively, even in times of constrained budgets.
There is so much technological change happening in aviation right now that the FAA recognizes we need to change the way we do business as well.
We have looked ahead over a decade out and have decided where we want to be in 2025.
The FAA's internal structures were created when the agency was formed – more than 50 years ago. We know that we need to realign to accommodate the great transformations that are happening. We need to work across agency departments to implement NextGen. And one of the most innovative aspects of NextGen is unmanned aircraft systems.
This year we established the Unmanned Aircraft Systems Integration Office in our safety organization to provide a centralized one-stop portal for all matters related to civil and public use of unmanned aircraft systems in U.S. airspace, as opposed to the previous model where UAS issues were handled in different parts of the agency.
This office will develop a comprehensive plan to integrate unmanned aircraft systems and establish operational and certification requirements for UAS. It will also oversee and coordinate UAS research and development. We've appointed Jim Williams to run the office and he'll be speaking in more detail about our UAS integration efforts at the conference tomorrow.
This new office has a lot of work underway already. These folks are working on a rule to integrate small UAS into our airspace. And they're working on a solicitation of proposals for six UAS test sites. They have already received the first application for a type certificate for commercial unmanned aircraft.
This office will think creatively because it will formulate new standards for new aircraft. Unmanned aircraft systems are inherently different from manned aircraft. They run a very wide range, with a number of different physical characteristics. Some are the size of a fist and fly at low altitudes. Others have glider-like bodies with the wing span of a 737 and can fly above 60,000 feet.  Many can fly longer and hover longer. They are lighter and slower than traditional aircraft and have a lot of lift and not as much drag. What unites them all is that the pilot is on the ground and not on board the aircraft.
We are dedicated to working with stakeholders in this growing industry and with our government partners – the Department of Defense, the Department of Homeland Security, NASA and the Joint Planning and Development Office – to define parameters for the safe integration of these very diverse systems into the world's most complex airspace.
Of course, we already have a track record with UAS in the public arena during the last two decades. The FAA has authorized the limited use of unmanned aircraft systems for important missions in the public interest, including firefighting, disaster relief, search and rescue, law enforcement, border patrol, military training and testing and evaluation.
Just this year, the FAA quickly approved an emergency application for humanitarian assistance using a small UAS – about three pounds – to survey ice ridges near the harbor of Nome, Alaska in January.
The mainstream press covered the story, which went like this:
The city ofNome, population 3,500, was running low on fuel and a tanker ship was having a hard time reaching the harbor because of very thick ice.
The Aeryon Scout UAS – dubbed by researchers as the "flying king crab" because of its legs for landing – was launched from the shore in Nome and it sent back photos of the ice. The information from this UAS helped the tanker get as close to shore as possible and also helped with the placement of the supply hose, which was used to offload the fuel. The people of Nome received much needed fuel in the middle of winter.
This is just one of the many ways that UAS are helping in difficult circumstances.
As I mentioned previously, we are working on a proposed rule that would establish policies to govern the use of a wide range of small civil unmanned aircraft systems in our airspace.
Also, we have already automated the application process for authorizations for the public uses of unmanned aircraft that I just described. For new applications, we have an on-line process that allows us to ensure that the paperwork is complete and ready to be assessed. We also have new ways to allow for expedited review for time-sensitive public missions.
Now the average time to issue an authorization for non-emergency operations is less than 60 days, and the renewal period is two years, rather than having to do it every year.
We are also developing standards for all UAS that will be used by public entities for self-certification.
In moving forward, we recognize that the expanded use of unmanned aircraft systems presents great opportunities, but it's also true that integrating UAS presents significant challenges.
There are operational issues that we need to address to safely integrate unmanned systems into our airspace, such as pilot training. We also need to make sure that unmanned aircraft see and avoid other aircraft and that they operate safely if they lose the link to their pilot.
This is why developing more test data is so important. Earlier this spring we asked for public input on the congressional mandate of establishing six test sites for civil unmanned aircraft systems. We need to make sure we use these sites to obtain the best data that we can. We are evaluating the comments and expect to ask for proposals to manage these sites soon.
Rest assured the FAA will fulfill its statutory obligations to integrate UAS.  But we must fulfill those obligations in a thoughtful, careful manner that ensures safety, addresses privacy concerns and promotes economic growth.
Listening to everyone's concerns and appreciating different points of view is the first step in ushering in a new technology and integrating it successfully.
Building new technology is one thing. Building human consensus on a path forward for our aviation system is an equally important task.
There is a lot of work that needs to be done to move the integration of all UAS forward. But we will get there. I look forward to working with all of you to make it happen.
I am happy to take your questions, and I believe Jim Williams is in the audience as well.  If we do not get a chance to answer your question, please feel free to stop by our booth.