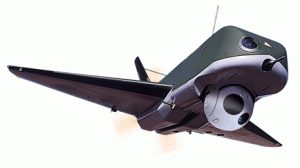 PARIS — The French Army has lost 12 interim tactical UAVs in operations since the Sperwer air systems were deployed in Afghanistan in 2008, a spokesman for the joint forces said.
Eight of the units were lost in flight during missions and four were damaged in landings, Army Col. Thierry Burkhard told journalists June 28.
The Army is withdrawing its Sperwer fleet from the Afghan theater, where the air vehicle has flown 770 missions and clocked 2,100 flight hours. The Army will still have the Drac, a mini-UAV from EADS Cassidian.
There are 30 Sperwer units in the Army inventory, including six bought secondhand from the Canadian Army, a spokesman for the Direction Générale de l'Armement procurement office said.
A further five units were recently ordered, two for delivery by the end of 2012 and three in 2013, intended to maintain the capability.
The French land forces deployed the Sperwer tactical UAV in Afghanistan Oct. 15, 2008, with a first flight Nov. 9, after a routine Army patrol ran into a deadly ambush Aug. 18 in the Uzbin valley that left 10 French soldiers dead.