Our condolences go to the family, friends and colleagues of the Schibel engineer killed in yesterdays incident.
A foreign engineer from an Austrian company was killed and two South Korean colleagues were injured Thursday when an unmanned spy drone crashed into their control vehicle during a test flight, police said.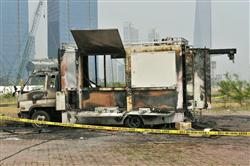 The trio were testing the aircraft for South Korea's military in the western port city of Incheon, police said.
"A 50-year-old foreign engineer from an Austrian company died on the spot when the S-100 drone crashed while they were controlling it remotely from inside the vehicle," a police spokeswoman at Incheon told AFP.
The crash triggered a fire and completely destroyed the 2.5-tonne vehicle, she said.
The 150-kilogram (330-pound) drone and the vehicle were together worth about five billion won ($4.38 million).
"I saw the vehicle, which looked like a large van and was parked in an empty lot, engulfed in flames after the plane circled over our building," an official in a nearby building told AFP.
Two South Koreans were injured but six other people in and around the control vehicle escaped unhurt, the police spokeswoman said, adding the cause was not yet known and government and military officials were investigating.
The downed UAV is reportedly being procured by the South Korean military to patrol the Yellow Sea around the Northern Limit Line.
The South Korean military are reported to be investigating whether the jamming of GPS signals by North Korea could have caused the crash. There have been several noted jamming incidents since April 28th, including another incident on the 10th which forced a Coast Guard helicopter to abort take off at Gimpo airport. At least 4 aircraft landing at Inchon are reported to have had GPS failures as well.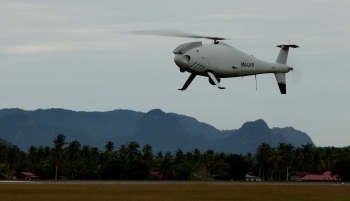 Aircraft zapped by the high-powered jammer include 618 Korean passenger planes, 48 foreign passenger planes, including 17 U.S., 10 Japanese and six Chinese, and one U.S. military aircraft.
A report last year released highlighted the prevalence of GPS jamming in the UK A secret network of 20 roadside listening stations  confirmed that criminals are attempting to jam GPS signals on a regular  Set up by the government's Technology Strategy Board (TSB) and run by Chronos Technology of the Forest of Dean, UK, the Sentinel network has sensed an average of ten jamming incidents per month since September 2011, according to Chronos chief Charles Curry.
In the USA DARPA are working on other ways of navigating without using GPS.  DARPA's Chip-Scale Combinatorial Atomic Navigator (C-SCAN) effort seeks an atomic inertial sensor to measure orientation in GPS-denied environments. Such a sensor would integrate small size, low power consumption, high resolution of motion detection and a fast start up time into a single package.
Thinking that its GPS jamming that caused this crash is jumping the gun somewhat.
An accident report will show what happened.
Again our thoughts today to family, friends and co workers. A very sad day for the Unmanned Aviation community.