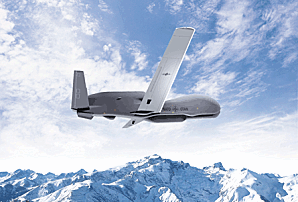 OTTAWA — The Harper government is considering a proposal to buy at least three high-altitude unmanned aerial vehicles in what could be an attempt to salvage its Arctic sovereignty ambitions.
The pitch was made by U.S. defence contractor Northrop Grumman and involves modifying its existing Global Hawk drone, which operates at 20,000 metres, to meet the rigours of operating in the Far North.
Many of the Conservative government's plans to establish a presence in the rapidly thawing region, including the construction of military icebreakers and the establishment of a deep water port, are behind schedule.
The U.S. Air Force is considering selling some of its Global Hawks, which are still under construction, as part of military budget cuts.
Dane Marlot, Northrop Grumman's director of international business development, says any potential purchase would have to be done through the Pentagon, but adds the proposal given to the Canadian government includes aircraft, ground stations, spares and in-service support.
He declined to attach a price tag, but a source with knowledge of the file said the package could run between $150 million and $170 million for each drone, depending upon what kind of surveillance package the Canadian air force wants included.