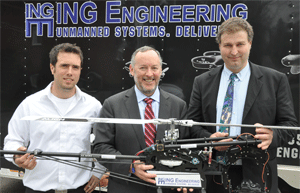 Sherbrooke, QC  – ING Engineering, Canada's leading robotic aircraft systems solution provider expands into Quebec. Ian Glenn, Chairman and CEO states "we have chosen to expand into the Sherbrooke region because we see a real potential in Quebec for the future growth of ING Engineering. We are very eager to draw from the pool of talented young Engineer's who have keen insight into the sector of Unmanned Systems". Today, ING Engineering has hired over 80% of their Engineering team from the Sherbrooke region and will continue to expand its Engineer's efforts in this region for their global market.
ING Engineering has flown in excess of 30,000 hours of persistent unmanned systems flight.  ING Engineering meets intelligence, surveillance and reconnaissance requirements more accurately and cost-effectively than traditional methods of fixed wing or rotary wing aircraft. Today, ING Engineering's ability to meet the specific needs of the customer with one of their Unmanned Aerial Systems is what makes ING Engineering stand out from the competition.
From Law Enforcement and Search and Rescue to Forest Fire Detection, Environmental Monitoring and Exploration for Oil, Gas and Mining sectors ING Engineering has the solution. ING Engineering also provides leading edge synthetic environment training systems as a compliment to the Unmanned Aerial Vehicle and Autonomous Underwater Vehicle training capabilities.