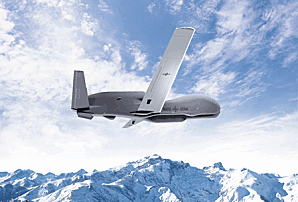 BRUSSELS, Belgium — As part of a sustained parliamentary debate on the impact of drone technology, the NATO Parliamentary Assembly released a new draft report, entitled Unmanned Aerial Vehicles: Opportunities and Challenges for the Alliance.
The demand for drones continues to grow, their operational advantages having once again been highlighted during the 2011 air campaign over Libya. And despite widespread cuts to defence budgets, NATO members are strengthening their drone capabilities.
The increasing use of drones, or unmanned aerial vehicles (UAVs), has raised questions necessitating thoughtful, broad based debate. Drone technology continues to evolve, transforming the way we fight wars, verify weapons stocks, enforce laws, and more. And these developments will continue to challenge policymakers for years to come.
As Special Rapporteur Senator Pierre Claude Nolin (Canada) underlines, "we need to ask these questions today and not wait until technological 'faits accomplis' make any debate obsolete."
To help inform the discussion, the report examines UAV's capabilities, their use in NATO-led operations, their strategic impact, controversial deployments, and ethical and legal issues.
It can be found at http://www.nato-pa.int/Docdownload.asp?ID=C356C8265C04020C05DA (22 PDF pages).
Despite the media's focus on armed drones, most UAVs in operation today are unarmed, carrying out intelligence, surveillance, and reconnaissance missions. Still, the proliferation of UAVs, particularly of armed drones, has catalysed intense ethical and legal debates.
Critics argue, for instance that by distancing soldiers from the enemy, drones contribute to a dehumanisation of the target, leaving soldiers "too unaffected by killing." Proponents posit, in turn, that precisely because they are not in danger and less stressed, drone operators may behave more ethically than soldiers placed in the line of fire.
As drones become more autonomous, ethical questions will become even more pronounced – can robots behave ethically, for instance?
Legal debates surrounding UAVs focus largely on US drone strikes outside of official conflict zones, as in Pakistan, Somalia, and Yemen against suspected insurgents and terrorists. The killing in September 2011 of two American citizens was particularly controversial, as it brought into question the protection offered to US citizens under the Constitution and other domestic statutes.
Beyond having a direct impact on operations, drones could have a wider strategic affect. For instance, because drone use could reduce states' potential loss of life to zero, they could strengthen their ability to deter or compel potential adversaries. But others think this belief is erroneous and could lead states into conflicts they would never have engaged in otherwise.
The report concludes that the NATO Parliamentary Assembly, as a key transatlantic forum for discussion, remains an ideal place to consider the impact of drone technology.
[Until this document has been approved by the Defence and Security Committee, it represents only the views of the Special Rapporteur.]
The NATO Parliamentary Assembly is the inter-parliamentary organisation of legislators from the member countries of the North Atlantic Alliance as well as 14 associate members. The Assembly provides a critical forum for international parliamentary dialogue on an array of security, political, and economic matters. Its principal objective is to foster mutual understanding among Alliance parliamentarians of the key security challenges facing the transatlantic partnership.