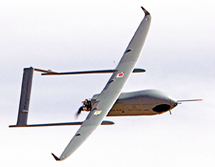 AAI Unmanned Aircraft Systems, an operating unit of Textron Systems, a Textron Inc.TXT +0.86% company, announced today that it is one of three companies awarded the U.S. Navy's Intelligence, Surveillance and Reconnaissance (ISR) Services multiple-award contract, encompassing both land- and sea-based unmanned aircraft systems operations for the Navy, Marine Corps and Air Force. Inclusive of all potential contracts among the three awardees, including AAI Unmanned Aircraft Systems, the Navy ISR Services award has a total not-to-exceed value of $874 million over five years.
The company's winning bid was based on its multi-mission-capable Aerosonde Small Unmanned Aircraft System (SUAS), which incorporates a heavy-fuel engine for reliable performance and mission endurance of up to 16 hours. It delivers persistent electro-optic/infrared ISR, plus with its large payload size, weight and power, it can accommodate another payload of choice for superior mission flexibility. Designed specifically for expeditionary land- and sea-based operations, the Aerosonde system uses an AAI-designed, one-piece Launch and Recovery Trailer for efficient takeoff and landing, as well as an Expeditionary Ground Control Station for portable command and control operations.
"In the early days of U.S. Navy unmanned aviation, AAI and Naval Air Systems Command demonstrated the tremendous potential of unmanned technology through our Pioneer program, and today, we are proud to support the Marine Corps with our battle-proven Shadow(R) Tactical Unmanned Aircraft System," says Senior Vice President and General Manager Steven Reid of AAI Unmanned Aircraft Systems. "Both programs are successes for our customers, and therefore points of pride for our team. Now, we are excited to provide the very best of today's small unmanned aircraft technology with our Aerosonde system in support of the Navy ISR Services program."
AAI Unmanned Aircraft Systems leads an experienced team for Navy ISR Services. Fellow Textron Systems operating unit AAI Logistics & Technical Services, along with other teammates, will provide worldwide UAS operations, maintenance, sustainment, spares and product support for the Navy ISR Services program. AAI Logistics & Technical Services brings decades of experience in full-service UAS operations and sustainment; for example, teaming with the U.S. Army customer for superior operational capability on the award-winning Shadow Tactical Unmanned Aircraft System performance based logistics program. Central to this success is a highly skilled and experienced staff of operators and maintainers with unparalleled system and mission knowledge.
"We have the resources and operational understanding to get the right people into the field, when and where they're needed," says Senior Vice President and General Manager Diane Giuliani of AAI Logistics & Technical Services. "Our customers need partners who understand the operational environment, and who can deliver the support they need seamlessly as one team. We are eager to engage these skills in support of the Navy, Marine Corps and Air Force."