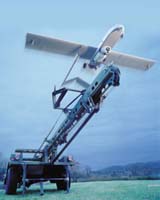 CANBERRA, Australia, March 29 Australia's Defense Ministry is speeding up delivery of a U.S.-made unmanned aerial vehicle system for use by troops in Afghanistan.
Australian Minister for Defense Stephen Smith and Minister for Defense Materiel Jason Clare, in an announcement Thursday, said AAI Corp.'s Shadow 200 will be in the hands of Australian troops nearly one year earlier than planned.
The Shadow 200 is 11.2 feet long, has a cruise speed of 103 miles per hour, a range of 68 miles and a ceiling of 15,000 feet. Launched from a catapult and carrying a variety of sensors, it is used for intelligence, surveillance and reconnaissance.
Each Shadow system is comprised of five vehicles, plus ground control stations, a launch and recovery element, and associated equipment.
Australia's second system was to be delivered next year but Australia asked the United States for earlier delivery so troops scheduled for deployment could train with it.
The cost of the two systems was more than $90 million.