Speculation abounds online that the UAS caught by an amateur cameraman flying over Kafr Batna on valentines day is either a variant of the Iranian Mohajer or a new platform altogether, being called at the moment "Pahpad" which is the Persian equivalent of UAV. The drone would very likely be a Syrian government airframe.
Iran has defied arms embargoes and exported several unmanned systems to Sudan and a similar mystery airframe was spotted there.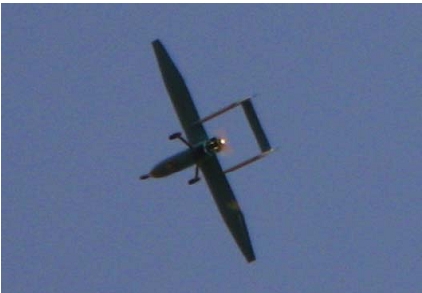 A UN "Panel of Experts", based in Addis Ababa and entrusted by the UN Security council with the task of monitoring the arms embargo imposed on Darfur, mentions in its report from October 2009 a Dubai-based company, owned by a UAE national and run by Iranian citizens, having supplied a video recorder, called Flash Back 2, to the Sudanese military, which installed it on a UAV to survey the region of Darfur. This piece of equipment had been originally manufactured by "Ovation Systems, based in the UK, and sold to a company called Mousaei Product Company, based in the UAE. The "Panel of Experts" revealed that this name is fictitious, while the actual company behind the order was Millennuim Product Company LLC. The company is registered in the UAE and its principal shareholder is Ayoub Mohammad Abdulla from the UAE. Its managing director is Saeid Mousaei, and its sales manager is Mojtaba Sadegbi, both Iranian citizens.
Another strong contender might be the South African Seeker 400, the outline seems similar.
The prototype of Denel Dynamics' latest Unmanned Air Vehicle (UAV), the Seeker 400, has been completed and is due to make its maiden flight in the first quarter of 2012, the company announced last year.
In June 2011 the Joint Standing Committee on Defence in South Africa asked if Denel marketed or sold conventional arms to Libya and Syria.
It did not, said Mr Sadik, Denel's Group Chief Executive Officer, because Denel adhered to South African and international regulations on conventional arms sales. Besides the regulations forbidding the sale of conventional arms to countries that were experiencing turmoil, including Libya, it would be unethical to do so.
The Seeker 400 evolved from the battle-proven Seeker II Unmanned Aerial Vehicle (UAV) System. The Unmanned Aerial Vehicle (UAV) has a modular all-
composite, lowdrag design that ensures optimum performance. The UAV's highly efficient engine and large fuel capacity provide up to 16 h endurance with extended service intervals. This, combined with a service ceiling of up to 18 000 ft and payload capacity of up to 100 kg, provides a versatile and capable platform.
The Seeker 400 System operates at direct Line of Sight (LOS) ranges of up to 250 km from the base station and provides:
Real-time day and night reconnaissance
Target location
Target designation
Artillery fire support
Electronic Intelligence (ELINT) and Electronic Support Measures (ESM)
Border patrol
Maritime patrol
Dual up and down communications links, modular design, high mobility and self-contained support provide a flexible system that has passed the real test of operational use.
The system comprises:
Four to six UAVs Mission control unit
Tracking and communications unit
Field support equipment
Optional tactical ground station
Direct LOS range of 250 km and 700 km with passing of control via the tactical ground station
Up to 16 h endurance with internal fuel
Up to 18 000 ft service ceiling
Up to 100 kg multiple mission payloads (excluding fuel)
Dual uplinks and downlinks
Brake-assisted ground operation
Piloted and autonomous flight capability
VHF and UHF FM Tactical Communications Radios
Mode S Transponder and VHF AM Air Traffic Control (ATC) radio for ATC interfacing
Payloads:
Capable of carrying dual imaging payloads with the images being transmitted to the ground control station via the dual video downlinks. Customer-preferred electro-optical payloads with diameters of up to 530 mm can be accommodated. This typically includes the following sensor combinations on a gimbal:
Colour daylight camera with zoom lens
Infrared thermal imager with step fields of view
Day colour or monochrome spotter camera
Night spotter camera
Laser rangefinder
Laser illuminator
An Electronic Surveillance Payload (ESP) for ELINT/ESM missions is available for detection and location of radar emitters.
No doubt allied UAS will have eyes on what is flying and will be very aware of where they depart and who they belong to.