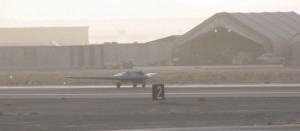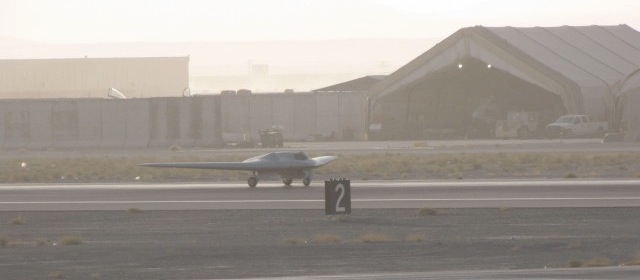 Avweek reports
By Bill Sweetman, David Fulghum
Washington, Washington
The first clear pictures of the center-line reconnaissance bay on Lockheed Martin's RQ-170 Sentinel show that the small unmanned aircraft was carrying sensor balls mounted in an internal compartment with specially treated transparent panels—developed for the F-22—when one of them crashed in Iran on Dec. 4.
The new pictures were taken at Kandahar airport in Afghanistan on Sept. 30. The images show that a wheels-up landing would have inflicted massive damage to the bay and sensor package.. That package is "similar to some of the podded electro-optical/infra-red [EO/IR]systems" used by other non-stealthy aircraft and unmanned aerial systems, says a veteran black-world engineer with insight into U.S. UAS programs.
The accident was caused by a "lost [data] link, followed by, or simultaneous with, another malfunction," says a second official involved with the program. Putting the loss into perspective, "We've lost over 50 MQ-1s [Predators] and 9s [Reapers], so this should not be a surprise."
The U.S. Air Force squadron that flew Sentinels was activated in 2005 and the stealthy, unmanned aircraft was first photographed at Kandahar in 2007. Early RQ-170 operations were conducted from both Afghanistan—with CIA involvement—and South Korea.
The RQ-170s were brought back to the U.S. in 2009, re-equipped with a full-motion video (FMV) camera, and then redeployed to Afghanistan, say USAF intelligence officials. At that time it was operated by the USAF 432nd Wing's 30th Reconnaissance Sqdn. (RS), then at the Tonopah Test Range Airport in the northwest corner of the USAF Nevada Test and Training Range. The wing also flies the Predator and Reaper, and the Tonopah base was once the clandestine home of the F-117 stealth fighter.
Full story. and its a good one!
http://www.aviationweek.com/aw/generic/story_channel.jsp?channel=defense&id=news/awst/2012/01/02/AW_01_02_2012_p28-409855.xml&headline=F-22%20Technology%20On%20UAV%20That%20Crashed%20In%20Iran