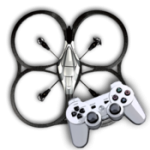 Drone Station is a Mac OS X compatible application for remote control of the Parrot AR.Drone quadricopter over a Wi-Fi connection. Drone Station allows customers to use a variety of commonly available joysticks, gamepads, and controllers to control their drone.
Summary of features:
* Compatible with AR.Drone firmware 1.5.1 through 1.7.11
* Real time video recording from front and bottom AR.Drone cameras
* Image capture from front and bottom AR.Drone cameras
* Extended range by use of external USB Wi-Fi dongles and antennas
* Animated configuration screen, allows you to see the effects of changes
* Simple drone simulator control check lets you practice your controls before flight
* On screen, animated attitude, altitude, directional, and battery gauges
* Quick Reference Guide
List of Compatible Controllers:
* Wired USB Xbox 360(TM) Controllers
* Wired USB PS3(TM) Controllers
* 
Logitech Extreme 3D Pro joystick
* 
Thrustmaster T-Flight Hotas X
* 
Logitech Dual Action Gamepad
* Keyboard and Mouse
* Wii(TM) Motion Controllers with Nunchuk and/or Balance Board
Note: Please fly in a safe area, away from humans, animals, and valuables. When using the balance board, make sure you have a large flying area unless you are extremely coordinated. Start with minimal flight control settings and work your way up.
Logic Consulting would also like to announce the addition of Drone Station to drone-apps.com, a single place of discovery and support for all the company's AR.Drone apps. Drone Ace, Drone Master, Drone RC, and now Drone Station app information can all be found along with support and user videos.
Minimum Requirements:
* Drone Station requires a Macintosh running Mac OS X 10.6.6 or later
* Third party driver is required for Xbox 360 controller.
* A Parrot AR.Drone
* 6.6 MB
With Drone Station you can record video and take pictures with a simple click of a joystick or keyboard button. The pictures and videos are automatically saved to your chosen folder on the hard drive.
Drone Station has been customized to allow for the use of external USB WiFi dongles so that you can get extreme range using an external antenna. You can get over three times the range of that from an iPad or iPhone.
Drone Station works on Snow Leopard or Lion.