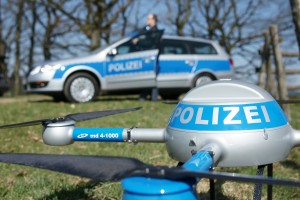 Using a
Grand Forks Predator
to help in a civil arrest may have opened up a can of worms for rule makers in the USA.
Harley Geiger Policy Counsel from the Center for Democracy and Technology wrote to sUAS News to underline CDT's position.
Some sensible stuff here.
As you are aware, the Federal Aviation Administration (FAA) intends to issue a proposed rulemaking on civilian sUAS use in the United States this coming spring, but this has caused controversy over privacy. I believe it is in the best interests of the drone community and consumers generally to temper this controversy with some basic rules.
The FAA cannot solve many of the privacy problems raised by domestic UAS use, such as Fourth Amendment issues regarding law enforcement use of drones – Congress and the judiciary should address these problems. However, the FAA is responsible for safe and efficient use of the national airspace, and the FAA's aircraft certification processes already require applicants to disclose ownership and system specs. Although the FAA may have limited authority to prohibit particular uses of UAS, the FAA can establish some basic transparency requirements:
First, the FAA should require all applications for a domestic UAS to include a statement  disclosing whether the UAS carries equipment that is capable of collecting identifiable information about individuals. If so, the statement should describe that equipment.
Second, the FAA should make UAS applications and accompanying statements publicly available in a searchable format. There could be an exception to this requirement for national security, but not law enforcement.
Taken together, these two critical requirements would generally prohibit the secret use of UAS and shed light on how UAS are being used. These requirements will certainly not resolve all the privacy concerns raised by UAS, but transparency is as crucial to privacy as it is to safety and efficiency. I go into more detail on these recommendations in my blog post: 
www.cdt.org/blogs/harley-geiger/2112drones-are-coming